Free-Range Eggs Aren't All They're Cracked Up to Be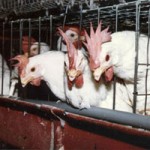 Many people have been scrambling to buy eggs from free-range farms, thinking that they're healthier and more humane than eggs from factory farms. While buying eggs from local farmers who don't cram hens into small, filthy cages is kinder than buying eggs that were produced on factory farms, it's not a truly viable—or humane—solution.
More than 300 million hens are raised on factory egg farms every year—approximately 95 percent of the eggs produced in America come from factory-farmed birds. The sheer number of animals raised to satisfy people's taste for eggs, meat, and milk makes it impossible for us to raise and kill them all on small farms.
In many cases, animals raised on organic or free-range farms suffer from the same painful mutilations as animals raised on conventional farms. "Free-range" or "organic" labels don't guarantee that animals are treated humanely any more than KFC's flowery assurances about its animal welfare practices guarantees that animals raised for its restaurants don't suffer. Chickens and other animals raised on organic or free-range farms are typically transported to the same terrifying slaughterhouses used by factory farms. Many animals are scalded to death or dismembered while they're still conscious.
It's not just our farming practices that need to change but also our eating habits. While PETA supports any action that helps reduce animal suffering, we believe that the only truly humane option is for people to choose tasty vegan alternatives to meat, eggs, and dairy products. Think about it: Would you encourage someone who beats their children to beat them less violently and less often? Or would you tell them to stop beating their children altogether? Less frequent, softer beatings would certainly be less painful for the children, but they're not really a compassionate alternative.
Fortunately, as more people realize that animals—who are made of flesh, bone, and blood, just as humans are—have interests and feelings that must be protected, they will eventually also come to realize that there's no good reason to raise them for food in the first place. There are humane, healthy, and delicious vegan alternatives, which are the kindest, safest choice.