Why Giving Your Dog a Bone Can Be Dangerous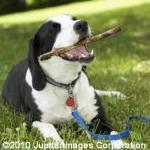 When I watch my pug friend Winston chew his bone, all seems right with the world. It keeps him occupied and becomes a "keep away from dad" activity for us if I pretend to want the bone. I also know he's keeping his teeth free of plaque as an extra benefit. Yet, a recent MSNBC report outlines what vets know all too well: Dogs will eat and chew whatever we give them, and sometimes the bones that we give them with good intentions cause them harm. The most common problems related to bone ingestion are these:
Blockage of the esophagus, also known as "choke."This occurs when a smaller dog tries to swallow a fragment of a larger bone and the bone gets stuck, resulting in labored breathing and vomiting. Emergency endoscopy or surgery must be performed to resolve this costly and life-threatening disorder.
Gastroenteritis.When a large piece of bone makes it to the stomach, it may cause irritation and/or ulcers, resulting in vomiting. In most cases, the acid within the stomach will dissolve the bone within a few days.
Constipation.If the bones happen to get through the intestinal tract, they may obstruct or irritate the colon as they pass, resulting in straining to defecate, or loose and bloody stool. In severe cases, perforation of the colon has been reported.
Pancreatitis.When an animal bone is eaten, the dog often ingests the fat that was attached to the bone, which can result in loss of appetite and persistent vomiting if pancreatitis develops. Hospitalization for IV fluid support is usually required.
So, how do we make chewing a bone as safe an activity for our dogs as possible?
1. Don't feed your dog animal bones. Think those are special treats worth picking up for your friend? They're not. Animal bones are often sharp with jagged edges and can result in a very sick dog.
2. Don't feed your dog pig ears or cow hooves. They can make your dog very sick.
3. Choose a bone appropriate in size for the size of dog. Feeding a bone that is too small carries the risk that your dog may gulp or swallow the bone whole. Feeding a bone that is too large could cause a fragment to get stuck. I like Nylabones, as these come in varied sizes and break into very small pieces as the dog chews. Dogs should be able to easily manipulate the bone with their front feet and chew the bone without difficulty. They should be able to carry the bone around in their mouth with a small portion of the bone protruding from the side of the mouth.
4. Small dogs are at greatest risk of bone-related complications because of the small diameter of their gastrointestinal tract. Also, be wary when your neighbor with the Akita offers your dog a huge bone as a gift. Thanks, but no thanks.
5. Beware of Greenies. Greenies are a popular product; their appeal is that they do not break up or fragment when chewed. But this also means that if your dog gulps or swallows them whole, the bone will never dissolve and must be surgically removed.
Additionally, there are many people whose dogs are now vegetarian! That would be the safest bet of all!
So, all you bone-chewers out there, be happy and be safe!