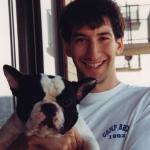 The week of May 2, 2011, is officially called "Hemp History Week," and therefore, we'd like to share this personal account from proud PETA member and vegan-gelato entrepreneur Asher Radkowsky.
I went vegetarian in 1995 after watching Ruffy, a dog pal of mine, kill a mouse on the sidewalk. Realizing that the mouse was another sentient being with a soul who was out for an evening's stroll just like I was, I resolved then and there to stop eating other animals.
This realization put me in an awful jam, because I loved ice cream but didn't want to keep eating a dessert whose production involved enslaving cows and contributing to climate change. Nor did I want to continue clogging my arteries and spiking my blood sugar. Therefore, I decided to create a stunningly delicious, nutritious, animal- and Earth-friendly frozen dessert.
What lead me to this point? While I had earned my undergraduate degree in economics, I had found the pursuit of finance to be rather unfulfilling. One life-changing day, a friend lent me Paul Hawken's The Ecology of Commerce: A Declaration of Sustainability. Inspired by Hawken's message—that the pursuit of commerce can actually be an enormously powerful force for the planet—I became eager to start a green business that would benefit all life on Earth and the health of the Earth itself.
Realizing that a "green" ice cream could be my route to accomplishing these goals, I started working on developing a healthy and delicious product—no easy task!
In the summer of 2007, inspiration struck when a friend informed me that she was now drinking hemp milk."How do you make milk out of a rope?" I asked. I vaguely thought that hemp was either heavy rope or a fancy word for marijuana.
Very soon, I learned that hemp is the low-THC cousin of marijuana and that hemp seeds are powerfully nutritious, packed with omega-3 fatty acids, protein, vitamins, minerals, and fiber. I also learned that hemp is an amazing plant with many, many environmentally friendly uses.
That's when I had the idea to make vegan gelato using hemp milk (hemp seeds ground in water) as my base and agave as a low-glycemic sweetener, for an even healthier product.
Since then, I have spent many, many hours in my kitchen developing what I'd later call "Zendulgence." With the help of a commercial gelato machine that I had purchased, I made and tasted hundreds of batches of gelato. It's been an extremely tough job, but the results have been worth the effort.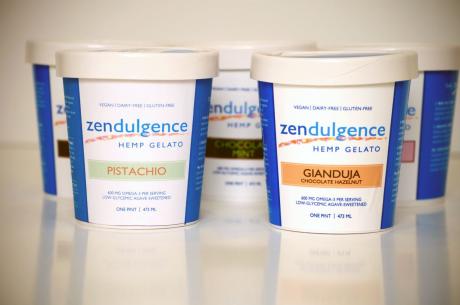 After perfecting my recipes, I have begun commercial production. Learning the food business is extremely challenging, occasionally scary, and also quite fun. Now the fruit of my labor, Zendulgence, is available at stores in the Washington, D.C., area, and I hope to increase distribution in the coming months. I'm currently manufacturing Chocolate, Chocolate Raspberry, and Chocolate Mint, and I will soon have more flavors on the way. Almost all my ingredients are organic because I don't want to contribute to environmental degradation by supporting the use of chemical pesticides and fertilizers. Check out www.zendulgence.com for more information!