The Cake and the Controversy, Part 1: The Controversy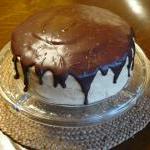 It was never intended to be controversial. I simply shared a photo of my self-made, hybrid-recipe birthday cake in an e-mail to some friends and family (yes, that's the actual cake pictured). I was quite pleased with the end result, which I described as "a dark chocolate layer cake with an intense peanut butter cup-like filling, topped with a peanut butter cream cheese frosting and a rich chocolate glaze—and all vegan."
That last word—"vegan"—sparked the controversy. A family member e-mailed me this: "It looks delicious, but I'd rather have it with real ingredients. Sorry about that. I guess the proof is in the pudding." Real ingredients? Get real!
This was my reply: "With all due respect, I'm confused by your comments. All of the ingredients I used were real. They just were not ingredients derived from animal sources, making them lower in fat, cholesterol-free, and cruelty-free (the egg and dairy industry's factory farming takes inhumane animal treatment to barbaric levels)."
The proof is indeed in the pudding. I shared slices of the cake with my colleagues, who are honest almost to a fault when it comes to my baking samples, and they all agreed that it was excellent. One of them said that she would have never known that the cake was vegan. In a taste test between a store-bought bakery cake and mine, mine would win. Previous rave reviews of my vegan baking inspired me to write a recent PETA Prime post.
And that led to this response: "I guess it is a matter of perspective. I guess I was using 'real' in the sense of regular coffee vs. decaf, or regular soda vs. diet. To each his own."
My rebuttal: "The comparison to regular coffee vs. decaf or regular soda vs. diet is not quite the same as comparing non-vegan food to vegan food. Using the term 'regular' gives the impression of it being superior, much like the way 'normal' was often—and sometimes still—used in a derogatory way. Perhaps 'traditional' (different, but not necessarily better or worse) would be more palatable, so to speak! A better analogy might be with building a house. The owner decides what materials to use. Everyone uses different combinations for different reasons, but the end result is the same-a house-and one is not necessarily better than the other. The composition of the house is what is best suited to the needs and desires of the individual, just like the composition of a vegan recipe is best suited to the needs and desires of a vegan. However, to carry the analogy a bit further, some of the materials for the traditional (non-vegan) house would have involved the use of slave labor, cruelty, and environmental harm in the form of factory-farmed animals, while the non-traditional (vegan) house would have been slave-free, cruelty-free, and more environmentally friendly."
If a vegan cake tastes just as good—or even better than—a non-vegan cake, for the sake of animals, the environment, and one's own health, the vegan option takes the cake every time!
Click here to read "Part 2: The Cake," where I reveal the recipe, with all its real ingredients!