Orlando: Vegging out in the Sunshine State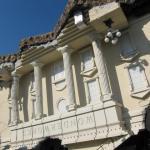 Say the word "Orlando," and most people think of theme parks. But to many travelers, Orlando means business. Orlando has one of the world's largest convention centers, and with the new expansion of the four-diamond Peabody hotel, it has one of the world's largest conference hotels as well. The options for vegetarian and vegan dining aren't small either!
For example, some of the Orange County Convention Center's recent offerings include garden wraps, greens, sprouts, and a vegetarian noodle salad. By the way, have you noticed that more and more omnivores are reaching for the vegetarian alternatives at conferences, meetings, and social events? It's great that more people realize that vegetarian food is so tasty—although now you have to hustle up near the front of the convention lunch lines to avoid facing unwanted ham and beef sandwiches.
During some recent conference events, the Peabody earned two forks up with vegetarian and vegan dishes drawing from Thai, Chinese, and Italian cuisines. Some of the dishes included soba noodles with dipping sauces (including Sriracha, a seasoned Thai chili pepper sauce), a julienned vegetable salad, a wasabi cucumber salad, sweet potato fries, and spring rolls.
Elevated skywalks offer a fun, safe, foot-powered way to traverse the city's convention area. As I jogged on one skywalk, a security guard stopped me. Nothing was wrong—he just wanted to talk about jogging, health, the need to appreciate and protect all of God's creation, and animal-free diets. It turned out that he is a follower of Dr. Neal Barnard, who researches and teaches about preventing and reversing disease through plant-based diets.
At the Hilton Orlando, also connected by skywalk to the convention center, a poolside business reception featured a fresh vegetarian buffet, and even veggie chips. Noting the popularity of the housemade mango salsa, a staffer said that he and his fellow crudité bartender are "total vegetable guys."
Between efforts to go green and accommodate the increasing demand for vegetarian and vegan dishes, these venues and others along International Drive (nicknamed "I-Drive" by locals) have been adding more vegetarian options to their event and restaurant menus.
The I-Ride Trolley is a convenient, green way to get around the International Drive area. It's only $1.25 a ride (a quarter for seniors and free for young kids with paying adults), or you can order a bargain pass before your trip or at some hotels.
On and close to International Drive are several restaurants with vegan options. "The Outta Control Comedy Dinner Show" at WonderWorks, "an amusement park for the mind," has a cheeseless pizza and salad option. Yep, and upon hearing my cheeseless/meatless request, one of the staffers even volunteered that he eats a vegetarian diet too. A bonus: The crispy fresh salad was all-you-can-eat.
I was happy to learn of four vegan and six vegetarian/mostly vegan restaurants that were a short drive away. (By the way, Orlando has an extensive bus system for $2 a ride.) The all-vegan choices include:
• Ethos Vegan Kitchen: This eatery serves up home-style comfort food for lunch and dinner every day as well as brunch on Sundays! Ethos Vegan Kitchen also offers vegan baked goods and outdoor seating and is wheelchair accessible.
• Café 118: Located on Orlando's north side in Winter Park, this raw food restaurant serves lunch and dinner every day but Sunday. At Café 118, you can find everything from salads to juices to dairy-free ice cream.
• Loving Hut: Part of a vegan restaurant chain opened by followers of Supreme Master Ching Hai, Loving Hut serves up another kind of soul food.
• Sah Nevaeh: "The Vegan Hot Dog Guy" serves his namesake product with vegan toppings and vegan literature.
Vegetarian eateries include the following:
• Dandelion Communitea: Gung-ho about sustainable practices, this popular green-certified organic café also sells vegan baked goods. It's located in Orlando's Thorton Avenue holistic community.
• Garden Café: This eatery features a wide array of delicious Chinese dishes, including many that are made with faux meats.
• Dimple's Khasiyat: An all-you-can-eat Indian vegetarian buffet that's mostly vegan.
• On Sundays, Orlando has an extensive farmers market and organic wine garden in Lake Eola Park.
For dining details, check Happy Cow and VegGuide. For Orlando visitor info, check out VisitOrlando.com.
OK, Florida residents and visitors, it's your turn to share your Orlando—or convention—experiences.