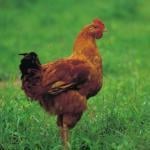 When I was in my early 20s, I fell in love with a meat-eater named David. He was willing to give up eating red meat, but he wanted me to compromise by eating chicken. Back in those days (30 years ago), the value of a vegetarian diet was not yet understood. David was afraid that we would suffer protein deficiency without some type of meat in our diet. I hated the idea, but I had heard that chickens were "as stupid as potatoes," so I agreed under one condition: If we were going to eat chicken, then we had to raise and kill our own chickens. If we were going to eat them, I argued, we had to take responsibility for their death.
David rushed down to the farm supply store and bought 12 peeping baby chicks. We started our peeping baby chicks out in a box with a hot water bottle in the living room while we finished building a little chicken barn. It was so much fun to watch them grow and get to know them. Every morning, they would waddle over from the barn to the house and cluck and scratch around until we came out to scatter their feed. They were so excited to see us when we got home from work, and they followed us around everywhere. Each chicken had his or her own unique personality, and they were filled with such joy and gusto for life.
Baby Huey was our favorite of all the chickens. She was a lover girl, always wanting to be petted and held. She had a big plumped up chest, and whenever she saw us, she would come running a hundred miles an hour, often falling over forward if she was running too fast. She reminded us of the cartoon duck Baby Huey, so we named her Baby Huey.
One day, a neighbor came to visit and accidently ran over Baby Huey with his car. As part of his apology, he offered to take Baby Huey home and cook her in his smoker and bring her back the next day for us to eat. I was so relieved when David announced that we were vegetarians and would no sooner eat a chicken than we would a dog.
I will never forget Baby Huey and our little flock of chickens. I can't look at chicken on a plate or packaged in the grocery store meat department without thinking that every one of those chickens is a Baby Huey who never had the chance to be loved, to be held and petted, or to peck around in the sunshine. Baby Huey and our little flock of chickens taught us that chickens are friends, NOT food.
Have you had any similar experiences with individual farmed animals?