Keeping a Food Journal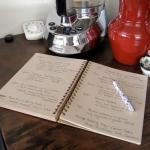 I've been keeping a food journal for years. I started it because my friends and family were constantly asking me what I was eating since I'd gone vegan. Apparently they assumed that I was starving from the lack of animal-free foods—not!
Maintaining a journal was a great way for me to keep track of all my awesome meals, remember the tasty recipes I'd tried, and also be able to produce a delicious list of meals for those who doubt that the vegan diet can keep you full.
The food journal started out simply as a fun project, but it turned into an enjoyable hobby. I am never in my kitchen without my pen and notebook, ready to describe every meal I fix.
For me, keeping a handwritten journal is so much easier than maintaining a food blog on my computer. I keep my notebook in my kitchen and can easily write down the meals in an instant. I keep a small digital camera in my kitchen as well, and I often take snapshots of the finished products. When I have time, I put them on my computer photo album along with the recipe title and date, but for the most part, my handwritten notebook is my log. I have several of these log books, with titles and sometimes decorations. My favorite decoration is from a PETA bumper sticker that I cut up and pasted on the front cover. It reads, "No, I Don't Have Any Spare Ribs!" I also cut out the picture of the cute little pig and put him underneath the title.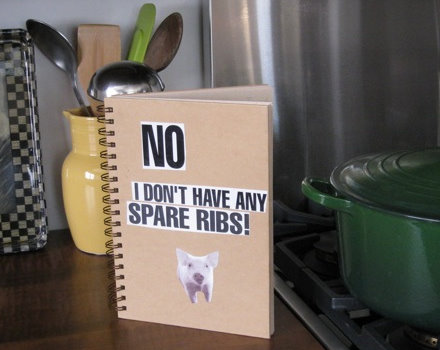 I often make up recipes, and the journal comes in handy for that as well. I can write down my ingredients and instructions as I cook. I couldn't easily do that on a computer, especially considering that I don't have one in my kitchen! I also keep track of what I prepare for special-occasion dinners. And if I have a dinner party, I write down my guest list and the menu.
I realize that with the prevalence of the Internet and food blogs these days, keeping a notebook might be an old-fashioned way of recording my cooking adventures, but it works for me. I don't plan on sharing my menus with the world—just a few friends once in a while. It's something I've made just for myself: a homemade cookbook that I can write in and keep on my shelf along with my huge collection of store-bought cookbooks, without actually having to publish anything.
Does anyone else keep a food journal?