My 'Compassionate Car Companion'
Anyone who's driven regularly has probably seen one—a deceased dog, cat, or wild animal lying on the side of the road. We may even have stopped to check for a pulse or eye movement in the remote hope of a roadside resurrection or a trip to an emergency veterinarian. We wonder if the dog or cat was someone's animal companion. Was the dog hit by a car before staggering onto the shoulder, or did some good Samaritan stop and move him or her off the road? It is difficult to leave an animal behind, even if he or she is already deceased—but what else CAN we do?
How many times have we witnessed strays terrorized by traffic? Or an animal whose life ended tragically on the side of a busy road? While many of us may know what to do when we encounter such a situation or whom to call, sometimes it may be hard to recall what the heck that number was!
Most cities have some type of animal pick-up service for cases like this, and that service typically responds to calls about wildlife as well. Why is it important to have a dead animal picked up? Because all animals are worthy of the fundamental respect of having the disposition of their bodies handled with dignity. Who knows their history? Would we not want our own beloved animal companion's remains treated with respect and dignity?
Most frequently, information regarding which agency is responsible for picking up deceased animals is located in your yellow pages or can be found quickly by way of a Google search. If you have a number of cities or boroughs in your metro area, a different agency may be responsible for this duty in each area, so sometimes a call to one of these agencies is necessary to find out whom to call.
I recently conducted a survey to determine what people did when they saw an animal's body on the side of the road. The results were interesting, as most people would not stop to see if the animal was deceased but would call to have the animal's body picked up. With that information, I got to work! When my research was completed, I categorized my findings and came up with what I called my "Compassionate Car Companion"—a comprehensive listing of phone numbers for agencies that deal with strays, injured animals, the bodies of deceased animals, and more. It's categorized by city for our local Phoenix metro area. Since that time, I've given away more than 300 laminated copies of the "Compassionate Car Companion," which also details how to rescue an injured animal safely and successfully.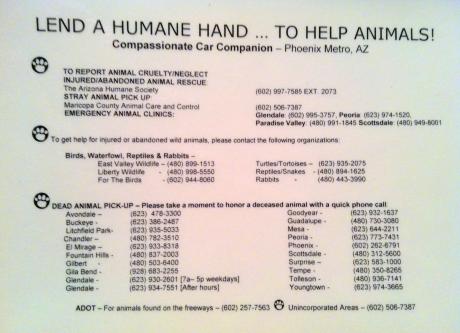 They say that necessity is the mother of invention—it sure was for me! If my effort helped to convince one person to help an animal rather than simply passing by, then it was time well spent. I invite you to do the same in your community—create your own "Compassionate Car Companion" listing and cultivate change for the animals in your area!
Image credit: One from RM / CC by 2.0
More: