Flavor Lust in Cambridge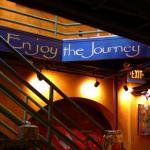 Given that it's the home of MIT and Harvard, Cambridge, Massachusetts, has always been a mentally stimulating place to visit. But it was my appetite that was most aroused on my recent trip there!
I explored the city extensively—and solely by bicycle. I spotted many interesting places to stop, park, and browse or to savor creative vegan fare. Cambridge's main artery, Massachusetts Avenue, is lined with cool shops such as Weirdo Records, which had a copy of a Huckleberry Hound album from the 60s. Remember those old cartoons? And the new shop Sudo Shoes has boots, heels, sneakers, and many other types of vegan footwear.
The side streets also hold great finds such as Buckaroo's Mercantile, which carries kitschy hula-dancer lamps, board games, posters citing the health benefits of decidedly unhealthy products, and other fun stuff. I chatted with one of the store's managers about how hand-me-downs-once shunned as a necessity for low-income families—have evolved into hip, vintage home-design staples. Continue down side streets to enjoy neighborhoods filled with New England architecture as well as views of Boston from across the Charles River.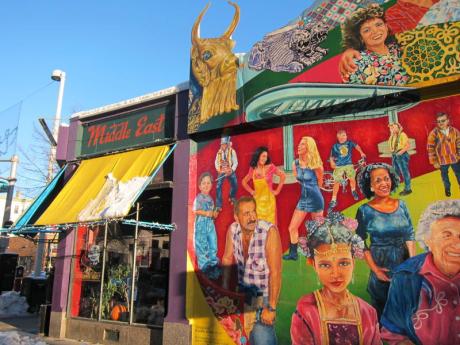 Across from Buckaroo's is the fantastic mural pictured above. It runs along the wall of The Middle East Restaurant and Nightclub, which is a great choice for live music and good eats that are both ethnic and ethical. The tabouli is soul-satisfying. On my next visit, I think I'll try the fava bean-filled Fool M'dammas.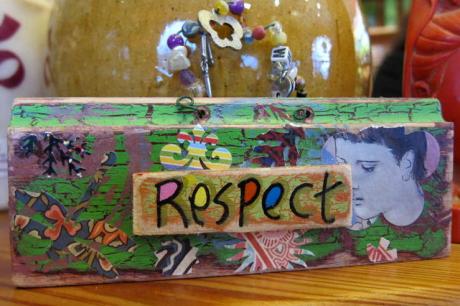 Central Square diners crowded into the new Life Alive Urban Oasis & Organic Café. The café features two levels of vibrantly designed spaces for eating and socializing as well as a broad menu of sumptuously prepared whole foods, most of which are vegan or can be easily veganized. The Healer mixes lemon flax sauce, nut yeast, kelp, broccoli, dark greens, and sun sprouts, and The Rebel features hijiki sea vegetables, sesame, ginger, flax oil, beets, carrots, greens, and quinoa. "Living sauces" featuring flavorful enzymes are added to each dish to aid digestion. The café's live juices and smoothies such as the Lust Alive—which is made with chocolate, cinnamon, and ginger—are also incredibly delicious.
Between Harvard Square and Central Square is Greater Boston Buddhist Cultural Center's Vegetarian Restaurant/Tea House.  All of this restaurant's offerings are vegan except for a few beverages. The luncheon specials are mouthwatering bargains, and treats include dumplings, turnip cakes, and soups.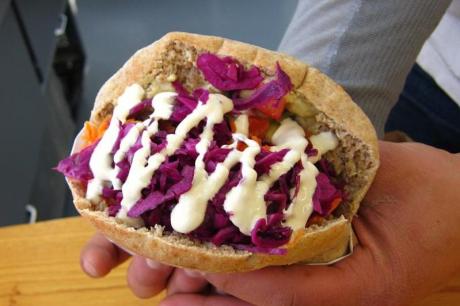 The vegetarian-centric food truck innovators of Clover Food Lab have just opened a storefront at Harvard Square. It is a bi-level streamlined café with an open kitchen. Chef Rolando Robledo took a break from cooking to tell me about his career working for such renowned establishments as The French Laundry, Aquavit, and the Waldorf Astoria. He told me that his passion for sustainable, meat-free cuisine brought him to Clover. His repertoire includes 80 nearly all-vegan soups and made-to-order dishes. The most popular dish? A vegan chickpea fritter with tahini and crunchy purple cabbage. Food truck favorites at Boston and Cambridge campus locations include seitan barbecue and hand-cut rosemary fries.
My next stop was the longtime favorite vegetarian-vegan eatery that is also beloved by omnivore diners: Veggie Planet in Harvard Square. The menu includes a build-your-own pizza-you can choose the dough (such as coconut rice) as well as the toppings. The restaurant's organic pizza dough is made by a nonprofit that provides jobs for underemployed men and women. Beer, wine, vegan desserts, and a vegetarian Sunday brunch with music and spirits? Check!
My too-short visit ended before I could try Grendel's Den, a vegetarian-friendly restaurant and bar in Harvard Square, or the Momogoose, a food truck serving largely vegan Asian fare. (Momogoose's Kendall T location will soon have a sister outpost at Boston City Hall Plaza.) There are even more vegetarian-friendly spots recommended by the Boston Vegetarian Society and Happy Cow.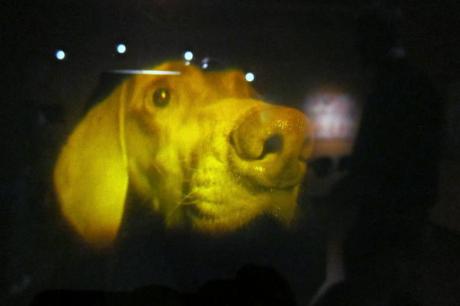 April's a great time for science and tech buffs to visit the area, as events include the Festival of Art, Science, and Technology and free open houses with hands-on activities and scientists on hand. I biked to a free open house at the MIT Museum on Massachusetts Avenue to view the new MIT 150 Exhibition, a retrospective of inventions such as instant cameras, motion-activated musical "sound stairs" (whose inventor went on to develop Urban Musical Instruments for public squares), motorized toys, and brilliant, hypnotic holograms.
For visitor information, check out the Cambridge Office for Tourism or call 800-862-5678.
So, tell us: What are your favorite spots in Cambridge?