Me and Tupelo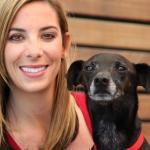 "Do you know whose dog that is?" I asked a local shopkeeper. I was in Tupelo, Mississippi, on PETA's behalf and happened to see a dog running in the busy street. The man shook his head and kept sweeping his front sidewalk. I took off down the block and eventually caught up to the dog. His nails were grossly overgrown, and his ribs and spine stuck out through his sagging, dry skin. He was filthy. It was clear that he had been left to fend for himself for a while. He was a bit skittish at first, but eventually he let me pick him up.
I was only in Tupelo for one day, but I decided to stop at the local animal shelter to see if the dog was microchipped, because he was clearly neutered. Upon arriving at the animal shelter, I noticed a dog who was confined in a crate by the front door. The crate was so small that the dog barely fit in it. Other crates were piled on top of his, indicating that this was the temporary drop-off area for found or abandoned animals. I decided to leave the dog-whom I named Tupelo, after his hometown-in the car with my colleague while I went in. Before I made it through the front door, I knelt down to pet the animal who was in the crate. He looked miserable, but when I squeezed a finger through the crate door to pet him, his wagging tail began to thunk against the crate walls.
Inside the shelter, troughs were filled with puppies, and echoes of barking were coming from backrooms. Clearly, they had a full house. The sights and sounds were a poignant reminder of why we all must adopt animals rather than buy them from pet stores and breeders. The woman at the front desk agreed to come out to my vehicle to take a look at Tupelo. "He's got fleas," she said as soon as she looked at him. She then performed a micro-chip test and determined that he was not chipped. I paid the shelter to examine and vaccinate Tupelo and test him for heartworms. Unfortunately, the test was positive. The shelter's staff estimated Tupelo's age at 3 years.
The shelter manager thanked me for rescuing Tupelo from the dangers of the street and gave me some helpful advice, including the cost and possible negative side effects of a heartworm treatment at a private veterinarian. She sadly told me that despite their best efforts to promote adoptions and spay/neuter, her shelter was always full of healthy, adoptable dogs, like the friendly guy I had seen in the crate. The shelter simply had no funds to treat sick dogs and cats like Tupelo when additional younger, healthier, more adoptable animals were arriving daily and forcing the staff to make heartbreaking choices. PETA is a leader in the effort to address the root causes of this crisis, so I fully understood their challenge. So what to do with Tupelo?
I had been planning to adopt a dog at some point, and I knew that I had the resources and time, but I sure hadn't planned on it during this trip! But I had already bonded with Tupelo, and I decided that he would find his home with me in Los Angeles! After an expensive heartworm treatment, Tupelo is healthy and fully embracing his new life. He goes to work every day with my roommate and has made the couch his own. His patchy, itchy skin is now a sleek black coat, and he eats with gusto and loves treats. He is always jumping up in pure happiness and rolling over for belly pats. Rescuing him was one of the best things I have ever done.
Please-keep an eye out for dogs like Tupelo and never assume that "they will be OK"; they often won't! If we as animal lovers and activists don't stop to help dogs and cats on the street when we see them, then who will? Order PETA's animal rescue car kit and keep it in your car so that you'll be ready to make a difference!
This guest post was written by Amanda Fortino. Amanda vividly recalls walking as a child past a "buck pole"-where local hunters hung their deer carcasses-and imagining the fear and pain that the animals had experienced in their final moments. She was so repulsed by animal suffering that she began on a course that eventually led her to working with PETA members.