A Super Bowl Sunday Menu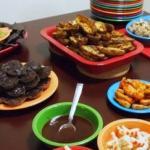 I've got my menu planned, and I'm giving you the inside scoop—just in time for you to head to the store, gather the ingredients, and prepare an unforgettable feast for all the football fanatics in your life.
Check out the food spread that I'll be cookin' up, and view the recipes below:
Game-Day Potato Skins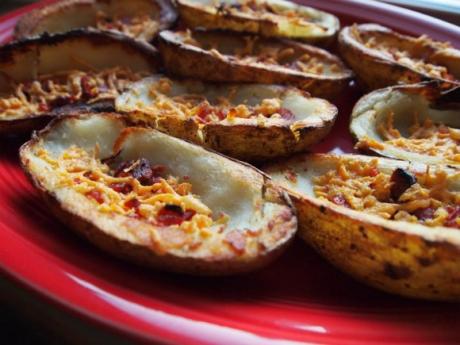 6 potatoes
1 cup vegetable oil
8 oz. shredded vegan cheddar cheese
1/8 cup soy bacon bits
4 Tbsp. thinly sliced scallions (optional)
Soy sour cream or vegan ranch dressing (optional)
Preheat the oven to 375°F. Lightly grease a 9-inch-by-13-inch baking pan.
Pierce the potatoes with a fork and microwave on high for 10 to 12 minutes, or until soft.
Remove from the microwave and cut in half vertically. Scoop out the inside, leaving a 1/4-inch-thick shell.
Heat the oil to 365°F in a deep fryer or a deep saucepan. Fry the potato skins for 5 minutes. Remove and drain on paper towels.
Fill the potato shells with the vegan cheese and the soy bacon bits. Arrange on the prepared baking pan and bake for 10 to 15 minutes, or until the "cheese" has melted.
Top with the sliced scallions and the soy sour cream or ranch dressing, if desired.
Makes 6 servings
Spinach and Artichoke Dip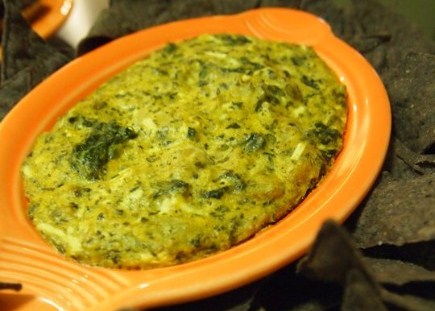 5 oz. frozen spinach
1 12-oz. jar marinated artichoke hearts
1-2 cloves garlic
1 cup Vegenaise
1/2 cup nutritional yeast
Preheat the oven to 350°F. Defrost the spinach and squeeze out the excess water.
Drain the artichoke hearts, but do not rinse them. Chop up the artichoke hearts and garlic.
Mix all the ingredients in an oven-safe bowl.
Bake approximately 20 minutes, or until the dip is bubbly and brown.
Makes 8 servings
For more game-day eats and inspiration, check out these recipes and products:
Buffalo Wings
Stuffed Mushrooms
Vegan Pizza
Faux-Shrimp Cocktail
Seven-Layer Mexican Dip
Who are you rooting for this Sunday-and what will you be serving?