Albuquerque's Bow-Wow Factor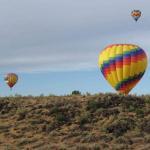 The toughest part of visiting Albuquerque with your dog is deciding what to do. A jog along the Rio Grande? Hiking the Sandia foothills to spot cactus flowers, jackrabbits, and distant volcanoes? Cross-species chow, beer, and cheer? Doggie-paddling at an urban beach? Boutique-ing in a funky 'hood being revived by citizens, both human and canine? Strolling among houses resembling Jetsons-era spaceships?All of the above, we decided. Petunia the pit bull wagged in approval.
First, we headed to legendary Route 66. The road's Albuquerque stretch, Central Avenue, runs east-west through the heart of the city. We refueled ourselves at Kelly's Brew Pub, a pleasantly raucous eatery occupying a classic Route 66 gas station. On the menu: craft beers, neo comfort food such as black beans and quinoa salad, and chow for canine diners.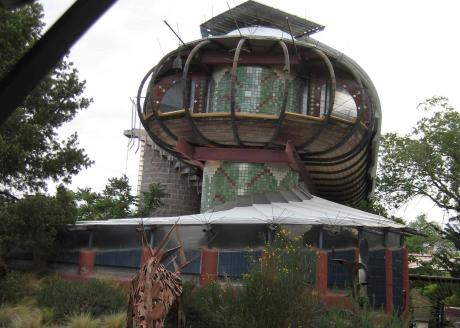 At any time of day or night in walk-friendly Nob Hill, you'll see plenty of dogs walking with their guardians among the University of New Mexico students and townies who are there to sip and shop at independent establishments. Gleefully eccentric architecture punctuates residential streets; look for elevated astro-punk houses designed by Bart Prince.
The Paseo del Bosque riverside trail runs 16 miles north-south through the Rio Grande's cottonwood forest. Worthy stops: Rio Grande Nature Center, which is a good place to spot sandhill cranes, road runners, and turtles; wetland preserves; and the Pueblo Montano trailhead, where there are chainsaw sculptures of animals carved by artist/firefighter Joseph Mark Chavez from cottonwood tree stumps left after massive fires. Dogs are allowed on the main park path when kept on a leash.
A beach in the high desert? Tingley Beach beckons at the Bosque Trail's downtown junction near Central Avenue N.E. Locals directed us beyond the mini train station and pedal-boating pond to "Pooches' Pool."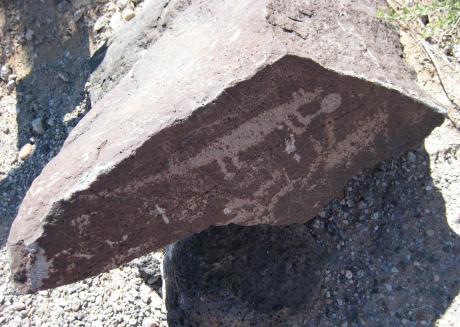 Ancient carvings in volcanic rock can be seen a short drive west to Rinconada Canyon in Petroglyph National Monument, a 17-mile escarpment along Albuquerque's West Mesa. Look closely: Man's best friend is among some of the hundreds of petroglyphs etched in this land, which is sacred to native peoples.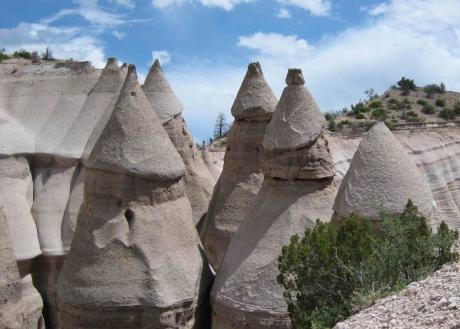 Next, it was time to explore ABQ's grandest feature: the Sandia Mountains rising to the east. "Sandia" means "watermelon" in Spanish. In the 1500s, Spanish explorers marveled at the pink mists descending upon the hills at sunset. Parking the car at the dogs-welcome Elena Gallegos Park, we hiked up the foothills. The 6,500-foot elevation provides views of Mt. Taylor to the west, the Jemez Mountains to the north, the sprawling Tijeras Arroyo to the south, and flora such as cholla cactus, squatty piñon trees, and soapweed yucca. The range's highest peak is Sandia Crest at nearly 10,700 feet. We encounter local hikers accompanied by their dogs along the way.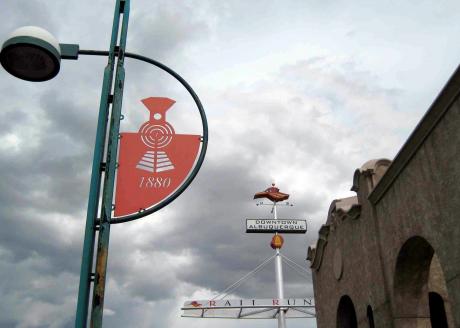 East of downtown, called EDo, is a rough-side-of-the-rails neighborhood now experiencing a renaissance through revitalization. At 2 Time Couture, a local talked to us about the jewelry crafted from keys, lofts built in a repurposed neighborhood school and the variety of vegan-friendly eateries.
For red and green chili lovers, Albuquerque is a famous place to indulge, but there's plenty else to feast on citywide. We headed to Central Avenue's intersection with Yale and University to check out Fei's Health café. Value-priced veggie dishes, mock-meat creations, vegan bento boxes, and yummy pearl tea!
On Rio Grande Boulevard N.W., we stopped at an outpost of the Flying Star constellation of eateries-most graced with outdoor "petios" and all offering plentiful vegan selections all day, from meals to home-baked goodies.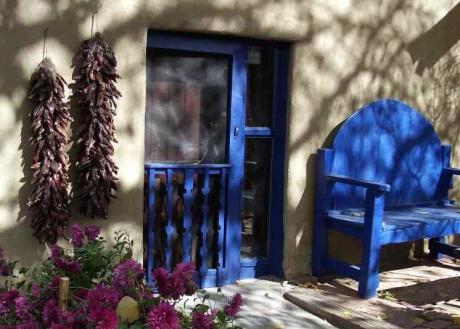 Other vegan-friendly restaurants include Annapurna's for luscious, healthy ayurvedic Indian fare in a funky setting at two locations: one near the university (20 Carrots, a university favorite for vegetarian and vegan eats) and one on Fourth Street N.W. (Thai Vegan, who's eclectic menu runs from pad Thai to wraps). There are also a number of dog-friendly accommodations in town, such as Hacienda Antigua, a festively furnished B&B ringed by adobe walls.
Albuquerque has nearly a dozen dog parks, but we never thought about taking Petunia to one since there are so many other dog-friendly places to take her. That's a city possessing the bow-wow factor!
For Albuquerque visitor information, call 1-800-284-2282 or visit http://www.itsatrip.org. Here's an excellent guide to veg-friendly restaurants and stores, which I plan to download before returning to Albuquerque.