What Is the Vet Really Checking for During an Exam?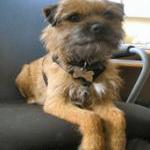 One of the foundations that vets rely on is a hands-on examination of your animal companion. The following is a checklist of what we are looking for and thinking about during a complete examination:
Bodyweight: I never cease to be amazed at the dramatic changes in weight that can occur in only a few months' time. Significant changes (greater than 10 to 20 percent) in bodyweight are usually undesirable and indicate a trend toward obesity or another serious medical illness. For some of my clients with multicat households, I advise purchasing a cat scale from your vet.
Temperature: Elevated body temperatures can sometimes be caused by excitement or a hot day, but fever is a reliable sign that something is wrong. If we are in doubt, we may take the temperature again after the animal has had time to settle down.
General appearance: I tell my clients that I don't believe my hairline is receding, but friends who haven't seen me in a while wonder what's happened to my afro. The take-home lesson is that changes you may not notice can often be recognized by your vet. Is the dog or cat behaving as he or she has in past visits? Sometimes early signs of illness can be subtle. I remember calling a colleague once regarding a dog named Dusty. As I had never seen Dusty before, I didn't know what "normal" was, and I was uncertain about whether or not the dog was ill. My colleague asked me, "Is he jumping all over you? If not, he's sick."
Other items we look for include the following:
Eyes: Are they clear or cloudy, red, or squinting? Do they have cataracts?
Ears: Are they clean or dirty? Is there a smell?
Nose: Is there discharge?
Teeth/Mouth: Are they infected? Does the animal have bad breath?
Lymph glands: Are they normal or enlarged?
Breathing: Is it normal or labored?
Heart: Is the rate slow, normal, or elevated? Is there a murmur? Is the heartbeat regular or irregular? Are the pulses strong or weak?
Abdomen: Are there any abnormal lumps or masses? Is it tense or painful? Is it distended? Is the animal constipated?
Skin: Are there fleas or areas of hair loss? Is the coat dry?
Ambulatory status: Is the animal stiff, slow to rise, or lame?
I hope that this removes some of the mystery about all the poking and prodding vets do when we examine your animal companion. And if you are ever wondering exactly what we are doing with your furry friend, never hesitate to ask!