PETA's 2010 Annual Review Is Anything But Routine!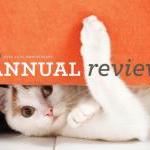 For more than 15 years, I served on the board of a grantmaking organization, and prior to joining the fundraising team at PETA, I was employed by a grantmaking charity. So I've read countless annual reviews from nonprofits-and, when I supported PETA's groundbreaking shareholder activism, I also read quite a few from for-profit corporations that abuse animals. Annual reviews tend to be pretty standard, utilitarian, and often boring in format: There's always a message from the president, a report on activities, and the financial statement.
But every year, I'm just about brought to tears by the elements in PETA's Annual Review, and this year's 30th anniversary edition is the most striking yet. Not only do the dedicated animal rights staffers who produce this publication select gorgeous photographs that illustrate the wondrous beauty and diversity of animals, they also use graphic techniques that pull the reader from the unique cover shot through each and every section to the rescue story on the back.
But most impressive is the text, which substantiates that PETA is the most effective and efficient animal organization in existence. The newly released 2010 Annual Review contains a head-spinning list of worldwide victories that have changed practices and attitudes that impact animals. I remember the 1980 PETA protest that led authorities in Fairfax County, Virginia, to cancel future animal-skinning demonstrations at a local park, but the 2010 Annual Review's impressive three-page foldout featuring historic milestones achieved from 1980 to 2010 (as well as lovely photos of animals who were rescued by PETA) should leave even longtime members awestruck at the landmarks attained in just 30 years.
In a year that has seen numerous magazines, newspapers, and other print publications close up shop, it is not surprising that PETA (to quote Ingrid E. Newkirk) further "set the standard for innovative and successful use of the Internet to help animals" by creating a distinctive online version of the annual review. You can open up a PDF of the print version, but PETA's 2010 End of Year Video, which begins with the words "PETA is … changing the world," offers inspiring sights and sounds of progress for animals, and if you move a cursor over the list of victories, a link will take you to a page offering more information. Of course, it wouldn't be a PETA publication if it didn't have a Take Action for Animals page because we should only look back at progress as inspiration for meeting the challenges ahead.
Here's something that I've never seen in an annual review: Anyone can become a part of PETA's 2010 report! There are great testimonials from supporters who give PETA the resources to make change, and you can add your voice. I hope you'll share with others the reasons why you give to PETA by speaking up for animals at http://features.peta.org/Annual-Review-2010/.