New Year's Resolutions You'll Actually Want to Keep!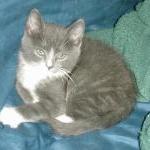 For most of us, the New Year's resolutions we make with the best of intentions will be tossed out faster than the holiday fruitcake. Let's be honest: Getting organized, pinching pennies, and losing weight aren't much fun. Maybe that's because-noble as they may be-these resolutions benefit primarily only us.
What if, instead, we resolve to do something to make life better for those around us? Maybe then we'd be more likely to keep our resolutions. I can't think of anyone more deserving of our efforts than our animal companions, who give us love and joy every day of the year! The following are some ideas:
Pledge to walk your dog every day, even when it's cold and blustery outside and you'd rather hide under a quilt. Few things are more important for your canine companion's health and happiness than the opportunity to stretch his or her legs and read the daily "news" on the local fire hydrants. Plus, what better way to help yourself keep that other New Year's resolution-to shed those holiday pounds?
Set aside some "kitty quality time" every day to play with, brush, and bond with your cat. It's too easy to overlook our feline friends when life gets hectic, and most cats are too polite to complain when they're bored or lonely. Get your cat's heart and mind racing with interactive "teaser" toys, catnip-filled socks, or even a simple ball of aluminum foil. For oodles of cheap, fun ways to keep your kitty on his or her toes, check out my book

250 Things You Can Do to Make Your Cat Adore You

.
Plan to have your cats and dogs

spayed or neutered

, if you haven't already. These simple procedures protect your furry friend from many types of cancer and prevent thousands of animals from being born only to end up on the streets or dumped at animal shelters. If your animals are already all "fixed," why not offer to help your friends or neighbors have their animals spayed or neutered by transporting them to the veterinarian or even offering to pay for the surgery yourself? Remember, spaying and neutering are cheap, but saving lives is priceless!
Resolve to

be an "Angel" for a lonely "backyard dog"

in your neighborhood. I can't think of a crueler punishment for these loving, social animals than to be isolated, far away from their human "pack," with only a few feet to move about in and nothing to do but watch the grass grow (or the snow pile up!). You could start by politely talking to the dog's guardians about what their dog needs, such as companionship, a warm and dry house filled with straw in the winter, fresh food and water every day, and regular veterinary care. Offer to take the dog for walks, and give the dog treats and toys. Don't give up: Some lucky dogs have had their entire lives changed because of someone who cared enough to intervene.
What are your New Year's resolutions?
Best wishes to you and your animal companions for a happy, healthy, fun-filled new year!