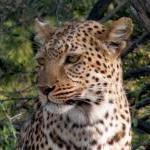 When I see leopards while visiting Africa, I am struck by how different they appear in different lighting, sometimes morphing from moment to moment. If the sun is hidden behind a cloud, if it is dusk with dim light, or if the area is shaded by trees-a leopard looks muted to me, not at all loud. But when direct sunlight hits a leopard, wow! They are gorgeous beyond words. Can leopards flash their colors if and when they want to? I don't know the answer to that, but it wouldn't surprise me if they could do exactly that. But leopards see things differently than I do, no doubt. What intrigues me is that other cats, such as lions, don't have any flashy spots or lines or scream-at-you colors to show off. Lions have a few rare genetic traits, such as black manes and white coats, but even these pale in comparison to the striking spots, lines, and saturated colors of cheetahs, leopards, tigers, and ocelots. All animals are good looking in their own way, of course. But why do some cat species have dramatic spots or stripes, while others are uniformly beige?
Recent research supports Rudyard Kipling's take on the subject: Spotted cats live in areas with trees, blending into the patchy background of branches and leaves so that they are camouflaged when they hunt. Unmarked cats like lions live in grasslands, where they are harder to spot in evenly lit, open areas. But this general finding doesn't explain the magnificent markings of cheetahs, who are easy to spot in the short grassy habitats where they live and hunt. The researchers chalk this anomaly up to the extraordinary speed of cheetahs-perhaps they are so fast that they don't need to hide. That might be true, but it would mean that cheetahs have evolved such speed to make up for showing off their fancy coats. What else could be going on here?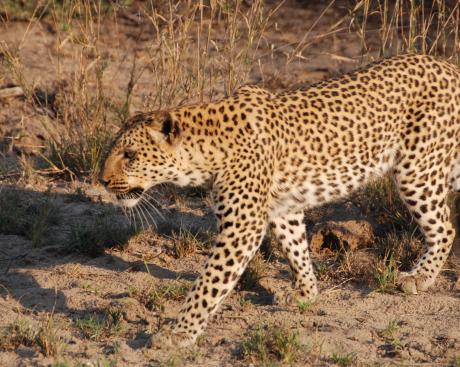 My hunch is that gorgeous cat markings are just that: in-your-face flashy markings! A show of force, health, and beauty to mates, potential mates, and rivals. Perhaps the obvious markings help the young keep track of the adults as well. Spots and stripes are the feline analog of peacock feathers, if you will. Conjecture aside, the beauty of cats makes them vulnerable to those who would try to steal that beauty and take it for themselves. But beauty is not transferrable: People who wear fur emanate ugliness from within. I ask you: Wouldn't you rather go naked than wear fur?