PETA Exclusive Glee Auction for Animals!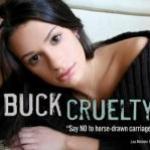 Talented Glee star and staunch PETA supporter Lea Michele is giving her fans—and animals—something to be gleeful about. Lovely Lea has donated armloads of memorabilia from the show to be auctioned off to support PETA's lifesaving work for animals. Gleeks can bid on posters, clothes, dancing shoes, and even scripts from some of the most memorable episodes of the show signed by the cast.
The auction is underway right now on CharityBuzz.com and will only last until February 10, so get your bids in as soon as you can. Then rev up your TiVo and see if you can spot the items you're bidding on in past episodes of the show (we know you're going to).
This isn't the first time that Lea has raised her wonderful voice against animal abuse. Most recently, she called for an end to the cruel horse-drawn carriage industry in New York in print and video public service announcements (PSA)  she did for PETA. It's the second set of ads she's done lambasting a lack of care and miserable housing conditions for horses forced to work long hours every day in congested streets. Lea also spoke out against fur in her PSA explaining the horrific abuse on fur farms and asking people to pledge to be fur-free. A committed vegan who won't stand for cruelty on her plate either, Lea also rescues animals she finds on the street and locates forever homes for them. Who says one person can't change the world?