Don't Forget Your Hidden Firewood Friends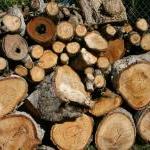 This is the time of year when we are all lighting our fireplaces and woodstoves. The wood has been piled up all summer drying out, and it's time to use it. The only problem is that while it has been piled up, it has become home to many little critters.
Our woodpile has lizards, snakes, wood bees, a variety of spiders and other insects, and even squirrels living in and among the logs. They coexist very cozily in our woodpile, and although we hate to disturb everyone, we do need to light our fireplace once in a while. We purposefully leave the bottom three or four rows of logs undisturbed (so that all the burrowing animals have a warm hiding place for the winter) and are very careful when bringing logs into the house, checking each one for life and putting logs back onto the pile if someone is in or on them. But once in a while, someone slips by us if it's dark while we are gathering our wood for the evening's fire.
The other night, we had a roaring fire going. The house was warm, our dogs and house rabbit were hanging out in front of the fireplace, and I decided to throw on another couple of logs. I picked one up that had a hole in the end. Always worried about harming animals unintentionally, we grabbed a flashlight, looked into the hole, and saw two little eyes staring back at us. A lizard had been sleeping deep in the hole, and we missed him when we gathered our wood. We put the log back into the woodpile outside so the little guy could continue his nap. Luckily, we had found him, but we were still very shook up-if we hadn't checked the log, it would have been a very painful death for him.
I can't stress enough how important it is to check each and every log before throwing it onto the fire. That woodpile might look like nothing but a bunch of old logs, but most woodpiles are teeming with life, and you will enjoy your warm fire a whole lot more knowing that you took those extra few seconds to check for those elusive little critters who call your woodpile home.