Don't Say, 'Cheese!' Say, 'Daiya!'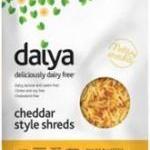 One of the biggest stumbling blocks for many people interested in going vegan is giving up cheese. Quite honestly, from the experience of my partner, Ken, and me, many vegan cheese alternatives have been disappointing. But that was before we discovered Daiya.
Now there's a vegan cheese that not only tastes great but also shreds, melts, and even stretches! We love pizza, and Ken makes some incredible varieties, but before Daiya, we always missed that unique taste and texture of cheese. But Daiya's Mozzarella Style Shreds now make our pizza perfect—and cruelty-free. Daiya Cheddar Style Shreds are also available. Between the two, just about every traditional cheese recipe can be made easily—and deliciously—vegan.
At the risk of "preaching to the choir," it's important to remember that cheese is a dairy product that contributes substantially to the horrible treatment of cows and the destruction of the environment. It is also unhealthy—since it's loaded with cholesterol and saturated fat (and usually lots of salt). So it's not good for the planet or our bodies-and certainly no good for cows! Daiya, on the other hand, is dairy-free as well as free of the artificial ingredients, preservatives, hormones, or antibiotics that are so common in many products derived from real milk.
Recently, Daiya's mozzarella and cheddar-style shreds have become more readily available in 8-ounce packages in the refrigerated section of many larger or specialty grocery stores, like Whole Foods. Our local natural food store, as well as the natural section of a large grocery chain in our area, now carries Daiya. It can also be sent right to your home from vegan stores like Pangea or Vegan Essentials (which also offers Daiya in 5-lb. blocks, which we have yet to try). If you want to find Daiya in your area, search here.
So far, so good, but what about the cost, you ask? Well, as The Frugal Vegan, I'm pleased to report that Daiya's cruelty-free product (at about $5 per 8-oz. package) is comparably priced to full dairy cheese. If you want to save some money, try purchasing it in 5-lb. bags for around $40, bringing the 8-oz. cost down to about $4. We've done that and then divided the shreds into smaller sealed containers, which we then pop in the freezer (it freezes quite well too). Even when we open an 8-oz. package, we will freeze the unused portion in a sealed container. At room temperature, it thaws in just a few minutes to be pliable.
With Daiya's initial success, we hope that the company adds additional varieties and styles. Oh, the possibilities! Check out this great recipe for cheesy garlic biscuits featured on PETA Prime earlier this year-it uses Daiya cheese.
Have you tried Daiya? If so, what did you think about it, and what recipes have you been using it in?