The Vegan Grandmother's Guide to Having Fun With Grandkids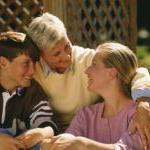 I'm fortunate that my grandchildren–Adrienne (2), Alexander (4), and Austin (6)–live close by, because it allows me to spend a lot of time with them and thus gives me the opportunity to teach them some valuable life lessons.
This was the case one day when Austin was visiting. He saw a spider strolling across the floor and yelled, "A spider! Kill it!" I dramatically feigned a great deal of horror and told him that we do not kill spiders in this house, that spiders are our friends, and that this little guy needed our help because he simply lost his way. I captured the spider carefully in a jar and released him outside under the watchful eye of Austin, who was fascinated that someone would do such a thing.
And speaking of spiders, who can forget the lovely and talented Ms. Charlotte in the movie Charlotte's Web? That's just one of a plethora of kid's movies with a humane theme, and we have some of them in our collection, including Babe, Madagascar, Finding Nemo, and my favorite, Happy Feet. These movies are filled with moments when the animals onscreen are in great danger because of something a human has done or failed to do. Popping some corn makes the occasion festive, and we enjoy our snuggly, giggly quality time. If it's TV instead, Noggin is full of shows that have animal-friendly themes. The Wonder Pets, Dora the Explorer, and Diego are always rescuing some poor animal in trouble. What a wonderful message for little kids!
Alexander especially loves to visit the local wild-animal hospitals. He especially loves the sea turtle hospital, where injured sea turtles are rehabilitated for release back into the water. And there's the wildlife hospital where injured birds, foxes, raccoons, opossums, and all kinds of critters find their way to rehabilitation. These are not petting zoos–not even close. They do not charge an admission fee, and the animals are not displayed and handled. They are simply in the hospital, waiting to be released. At this age, my grandkids are too young to understand the concept of rehabilitation, but being there, among these animals, helps me share my passion. Besides, the gift shops are a treasure trove of toys!
Like any other self-respecting Irish "mither," when my grandchildren are around, I love to feed them. I don't know why–it's not like they are being starved at home. It's just that it does my heart so good to see them eat healthy vegan food. We make "ants on a log," which is celery smeared with peanut butter with raisins on top, or Tofutti sundaes with all the fixin's. We also make bananas rolled in wheat germ and soymilk smoothies. If I am feeling really adventurous, I cut open a pomegranate. With their tiny seeds, they are perfect for little fingers to explore while sitting outside in the sun. (Pomegranate juice stains, so be careful!)
Of course, everyone loves coloring, and here's a tip: Since trends change so much, I stopped buying coloring books. I want to save the trees just as much as the next guy anyway. I found that you can simply print out coloring pages from the internet on virtually any subject you want. Are your grandkids into puppies today? Just Google "puppy coloring pages," and you will find more coloring pages than you can color. Tomorrow, it may be Superman or Dora, but you get the idea. And the bonus is that you will always have lovely refrigerator art! PETA also has a great coloring book about how elephants are treated in the circus. You can use this as a way to entertain and teach your grandkids at the same time.
When we take the dogs for a walk, I put on two leads, one for me and one for the little guy who may not always be able to hold back a 98-pound golden retriever! And I always greet the little animals we see along the way: "Hello, Mr. Squirrel," "Good Morning, Ms. Grackle," "Top o' the mornin', little lizard, and how is Mrs. Lizard today?" It doesn't seem to annoy the birds and lizards, and the kids seem to love it. It helps teach them to respect all living creatures in their natural habitats. It becomes a game to see which one of us spots and greets the critter first.
And before I forget, there's one more thing. It's fun to teach kids sign language to silly songs. My favorite one is The Unicorn Song (green alligators and long-necked geese), because it is so much fun and easy to sign. Hmm, what's the sign for "See you later, alligator?"
For more fun activities and alternatives, check out Ingrid E. Newkirk's book Making Kind Choices.
How about you? Any suggestions for humane activities that you enjoy doing with your family?