Sweet Chloe's Holiday Miracle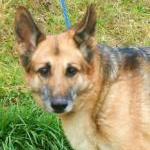 In this season of hope, I have something of a personal holiday miracle to share with you.
In mid-December, approximately a month after our beloved Nellie's passing, we started down a path of no return: looking for an old dog in dire need of a home and a forever family. There are so many—far too many.  While several dogs seemed to be ideal candidates for our little pack, the image of one dog in particular mesmerized us: Sweet Chloe.
Chloe's family, who had her for 10 years, dropped her off at an animal shelter in Zanesville, Ohio, in early November as if she was an old piece of unwanted furniture. Cold, confused, and stressed, Chloe's future was bleak indeed. The odds of an older, larger dog getting adopted are slim to none. But this is when the miracle begins to unfold.
Chloe had the very good fortune to end up at an animal shelter overseen by a guardian angel. The shelter manager, a seasoned pro who has seen it all, also operates her own rescue group and often works with another rescue group to help get the word out about dogs in desperate need of finding a home. And that's how we discovered Chloe.
Our inquiry about Chloe, the first and only one made, lifted the holiday spirits of many volunteers from both rescue groups. E-mail exchanges, which seldom could be read with dry eyes, began to hint at a miracle for sweet Chloe—and just in the St. Nick of time! 
Chloe's days at the animal shelter were numbered but in the very best way: We were set to adopt her on Wednesday, December 22. Yes, sweet Chloe, there really is a Santa Paws!
With help of several volunteers from both rescue groups, Chloe made her way to us via a transport relay-she caught rides to Morgantown, West Virginia, and Hagerstown, Maryland, and then finally met up with us in Carlisle, Pennsylvania. What is truly amazing is that these volunteers do this all the time to save dogs!
Chloe is sweet  indeed. She is the gentlest dog you can imagine. In just a short time, our other two rescued dogs, Toby and Winnie, acted as if Chloe had always been a part of our family. Chloe's already enjoying good meals, plentiful treats, regular walks, multiple beds, and most of all, a secure, loving forever home. Chloe, who had lost more than 10 pounds while at the animal shelter despite kind and professional care, has the rarest of holiday goals: to gain weight!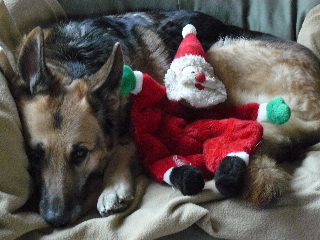 In a nutshell, this is the story of Chloe's Christmas miracle: Angels from two rescue groups managed to align the stars to guide sweet Chloe from an animal shelter with no room to two wise guys in the East! Joy to the world—Chloe has a home!
And somewhere out there—or at least in our minds—the tails of Nellie and Maud are wagging over this tale of our new 10-year-old puppy, sweet Chloe.