Great Art and Dining in Dallas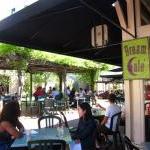 In Dallas, you'll find plenty of proof that everything's bigger in Texas. The new Cowboys Stadium, which will host this year's Super Bowl, is the world's largest domed stadium. Almost as massive, The Dallas Arts District encompasses 68 acres and 19 blocks. It makes for a great walking tour, especially considering the fine architecture that is on display 24/7. The Nasher Sculpture Center was designed by Renzo Piano. Other starchitects represented include Rem Koolhaas, I.M. Pei, and Norman Foster.
With the recent opening of the Winspear Opera House, Wyly Theatre, and Annette Strauss Square, the downtown arts district is nearly complete. There's always something intriguing going on. During my visit, I caught part of the DanceAfrica fest, and at the Crow Collection of Asian Art, I watched Drepung Loseling monks pour colored sand, grain by grain, from metal funnels to create a 5-foot-by-5-foot mandala. Mandalas are said to represent the perfect balance of the energies of the body and mind, and creating a sand painting of a mandala is belived to be an act of purification and healing.
The Dallas Museum of Art retells world history through art. An upcoming winter show will honor American arts and crafts visionary Gustav Stickley.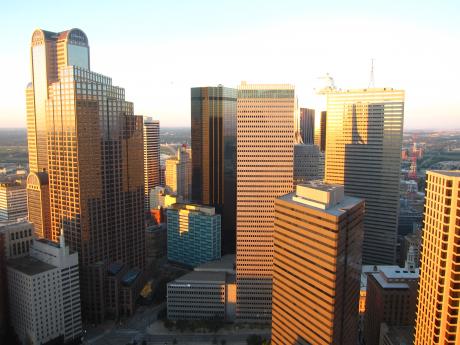 Lodging deals can be found a block away from the arts district at the recently renovated Sheraton Dallas.  As the biggest hotel in Texas, it has 1,840 rooms, multiple internet lounges, supersized touchscreens, and helpful staff. I like that the hotel asks guests at check-in to make a "green choice" by opting out of the resource-intensive daily towel and bedding service. Doing so earns guests a $5 coupon that is redeemable at the hotel's food outlets.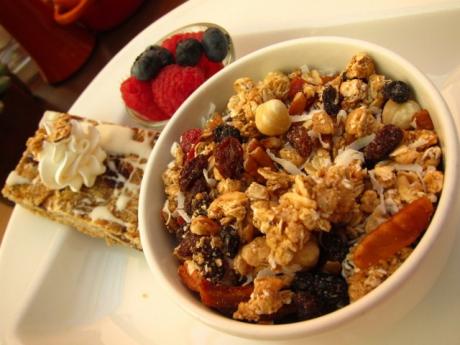 Another like: the hotel's sunny Kitchen Table restaurant, which offers well-prepared options for those who follow a plant-based diet. I devoured the kicky Texas-style lentil soup and the fresh and filling build-your-own salad. Morning choices include gourmet granola bars and zesty hash browns.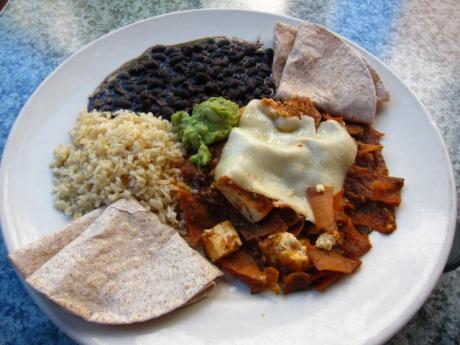 To get around the arts district, you can walk or catch a free ride on the new fuel-saving Art Carts. There's also a free streetcar running between downtown and uptown. That's where I found The Dream Café, which offers healthy fare with a Texas accent. For $10, I enjoyed the hearty "You're so Vegan" platter (scrambled tofu, corn tortilla strips, soy cheese, organic black beans, and whole wheat tortillas). Other temptations included roasted acorn squash (with brown rice, pecans, currants, and salad) and a house veggie burger. Lacking room for the Superman vegan smoothie, I instead sipped a Strawberry Hibiscus iced tea in the lovely courtyard.
A few miles south of downtown is beautiful Kessler Park and the Spiral Diner, a restaurant that has long been committed to plant-based, cruelty free, palate-pleasing fare. Plenty of meat-raised Texans flock here, and it's no wonder, considering the diverse menu. Between the grilled portobello quesadilla with "cheese," masterful house seitan, nut patties, and vegan barbecue, it's hard for a hungry vegan to choose! I topped my own meal off with an I-Scream sundae (a coconut milk-based treat that includes mocha and dark chocolate chips). Between munching and admiring this cool venue with its hammered tin ceiling, I overheard discussions about some interesting events such as the Texas State Veggie Fair, which is held in October.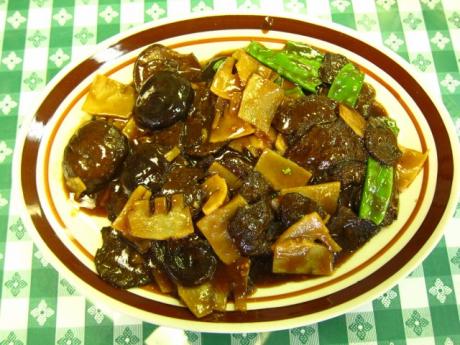 Because the Sheraton sits right next to the wallet-friendly Dallas Area Rapid Transit railway, I could reach some of the great restaurants in Dallas' outlying areas such as the all-vegan Suma Veggie Café  in Richardson. I usually avoid mock meats, but two women at adjacent tables suggested the veggie beef and mushroom entreé. I was happy that I complied. The café was packed for dinner service, and everyone seemed to be enjoying the food. (The lunch special is an even greater bargain.) Worth noting: A poster near the entrance states that no animal-derived foods may be brought into the restaurant.
You will need a car to get to New Start Veggie Garden, a wonderful all-vegan restaurant in northwest Dallas. The eatery has a sprawling buffet of Asian-inspired delicacies, including soups, nuts, casseroles, salads, and desserts. And the super-nice owner has set a price that is friendly to all budgets.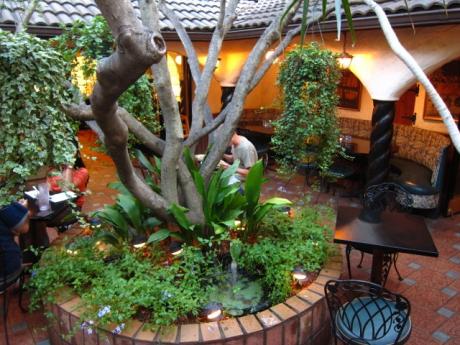 I took a long circuitous bicycle ride to find the vegetarian restaurant Kalachandji's. The eatery, which is part of a lovely Hare Krishna temple, is located in out-of-the-way neighborhood that is approximately five miles from downtown. Frequent patrons told me that the mostly vegan buffet has been attracting locals for four decades. On weekends, the restuarant offers a bonus apple crisp. And you can dine year-round in the eatery's colorful courtyard by a trickling fountain. The buffet price is called a donation, and it is quite modest.
The Black Vegetarian Society of Texas and the Dallas Vegan blog are both great resources. When you decide to visit, rest assured that Dallas will satisfy your cultural and culinary appetites in a big way.
Do you have any of your own vegan-friendly recommendations for the Dallas area?