A Double Batch of Vegan Baking Cookbooks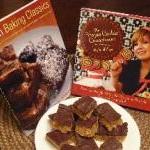 Double your vegan baking pleasure with two new vegan cookbooks-just in time for the traditional holiday blizzard of baking!
First up is Vegan Baking Classics: Delicious, Easy-to-Make Traditional Favorites by Kelly Rudnicki. This 160-page paperback includes nearly 100 recipes (many with photos) as well as a section on vegan baking tips and advice.
Rudnicki, a mother of five small children, lives in suburban Chicago. Her vegan epiphany resulted from her oldest son's life-threatening food allergies. Her mission to provide her family with safe and delicious baked goods led to her first book, The Food Allergy Mama's Baking Book, as well as The Food Allergy Mama website.
The recipes, all of which are relatively easy to make and use readily available ingredients, cover just about every baking category you can think of, from breads, biscuits, and bagels to cakes, cookies, and candies.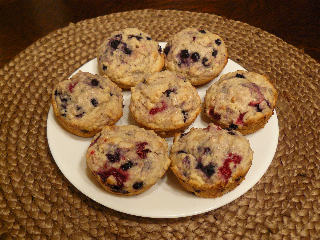 The first recipe I tried was the Emerald Isle Coffee Cake. It was incredibly moist and delicious. Then I made the Snickeroos (pictured in the photo with the two books). These were the best crispy squares I've ever had! The Berry Muffins were excellent (I used a mixture of frozen raspberries and wild blueberries). The Dinner Biscuits were perfect for our Thanksgiving feast.
I've made Rudnicki's Heart-Healthy Oatmeal Pancakes several times. What a wonderful pancake variation! Sometimes I add chopped walnuts and cinnamon; blueberries would work as well.
The Vegan Cookie Connoisseur: Over 140 Simply Delectable Recipes to Treat the Eyes and Taste Buds by Kelly Peloza is chock-full of fantastic recipes and fabulous photos and is a great companion to Vegan Cookies Invade Your Cookie Jar.
Peloza started working on this book when she was still in high school! Her goal was to create a comprehensive collection of vegan cookie recipes that use accessible, inexpensive ingredients and are delicious. She certainly was successful!
Of course, it's typical for a cookie cookbook to have more than one chocolate chip cookie recipe, but Peloza provides us with six! There are also several recipes for no-bake cookies as well as one for a canine cookie. The photos reveal Peloza's artistic eye; for example, I swear I could smell the cinnamon by looking at the photo of the Snickerdoodles!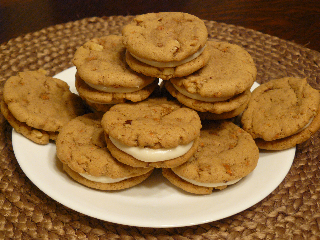 In addition to the recipes, the book has many helpful hints, as well as variations for many of the recipes. The cookies are grouped into 11 categories, ranging from "Cookies Inspired by Drinks" (Eggnog Cookies) to "Totally Nuts and Seeds!" (11 peanut butter cookie recipes) to "No Bakes" (Gooey Butterscotch) to "Fruity Cookies" (Lemon Poppy Seed) to "Tea Party Cookies" (not the political kind!).
I made the Carrot Cake Cookies first. They were unbelievable! This cookie is perhaps the best I've ever made-or eaten. My only variation was to add some chopped walnuts. I'm so eager and excited to try more of these recipes this holiday season.
Either of these books-or better yet, both of them-would be a wonderful holiday gift for the vegan baker in your life. And if that person is you, go ahead and treat yourself. Season's eatings!
So what have YOU been baking?