The Betty Crocker Project: Eggs Benedict, Featuring the Vegan Poached Egg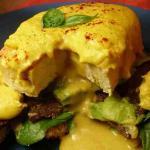 After watching the movie Julie & Julia, we were intrigued by the idea of an amateur chef cooking her way through a classic cookbook and blogging about it along the way. However, we were horrified by an important scene in the movie in which the lead character "overcomes her fear" of boiling a live lobster and dooms the poor guy to being cooked alive. We decided that there needed to be a humane alternative to the lobster killer-and the Betty Crocker Project was born. We're currently cooking our way through the classic Betty Crocker Cookbook, making every single one of the more than 1,000 recipes vegan along the way. We've always said that we can make anything vegan-and now we're out to prove it. You can follow along for yourself at meettheshannons.net and also get a taste here at PETA Prime, where we will occasionally crosspost our recipes. The following is one such recipe:
Poached Egg
1 batch "cheese sauce" from our Mac 'n' Cheese recipe
1 pkg. firm tofu, drained and cut into 4 rectangular pieces
Hollandaise Sauce
1/2 cup vegan sour cream
3 Tbsp. nutritional yeast
3 Tbsp. lemon juice
1 tsp. margarine
1/4 tsp. turmeric
1 tsp. Bragg's Liquid Aminos
Other Ingredients
6 pieces tempeh bacon
2 Tbsp. olive oil for cooking
Dash liquid smoke
4 English muffins
1 cup raw spinach
1 avocado, sliced
Dash paprika
Heat the oven to 400°F.
Make the cheese sauce from theMac 'n' Cheeserecipe.
Rinse yourflavor injector with warm water-yes, I know these things are meant for crazy meat-eaters and are seriously scary-looking, but really I love mine now.
Fill your injector with the cheese sauce. Take your tofu, and one at a time, slowly stick the injector into the center of one of the shorter sides of the rectangle. Make sure it doesn't go in too far. You don't want to pierce one of the sides. Then-and this is key-gently move the tofu back and forth. Don't move the needle because it will tear a big hole on the outside of the tofu. But if you move the tofu, it creates a pocket in the tofu while keeping the injection spot as small as possible.
Fill all 4 pieces of tofu. When you pull the injector out (right before you put it on the dish), slowly inject more cheese sauce. You're going to want to inject so much that the tofu looks like it might burst. That's why you inject it slowly-so that you can watch it.
On a lined cookie sheet, bake the tofu for 20 minutes, or until golden brown. At 10 minutes, flip the tofu to make sure that both sides get browned. Some of the cheese sauce will pour out. Don't worry about that.
While the tofu is baking, make your fake bacon and other parts of the dish. In a little cast-iron skillet, cook the tempeh bacon in some olive oil and liquid smoke.
In a small sauce pan, mix all the Hollandaise sauce ingredients with a whisk over low heat. (This will thicken pretty fast, so don't prepare until you are almost ready to make up the dish.)
Toast the English muffins.
To assemble each serving: Place the desired amount of spinach, bacon, and avocado on top of 1 half of an English muffin. Add the "poached egg." Pour the desired amount of Hollandaise sauce over the top. Add a dash of paprika to top it off.
Makes 4 servings