Prime Inspirations: Holding Vigil for the Victims of a Cruel Industry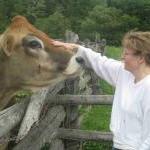 Michele Thorn is a full-time mother of a teenager and a part-time "soccer mom." She has worked in child protection for 15 years and has been vegan for five years. In the past few years, she has been highly active in animal rights issues.
On Friday, November 5, I stood in the cold rain with several other activists, holding vigil at a local farm where 5,600 hens had died in a fire the previous week.  Video footage taken in the aftermath of the fire showed that many hens had burned to death while others likely suffocated. There was no way for the animals to escape their cages-they had been trapped.
Because this farm was in a rural area, our small group might have seemed vulnerable. A few people honked at us while giving us "the finger," and I heard some angry shouting. Thankfully, in response to our news release, local media came out to cover the story. After the reporters left, I was heartened to see a few thumbs-ups accompanying the honks. However, one passerby stopped her car, got out, and threw eggs at us! At least she had terrible aim-she didn't end up striking anyone or anything.
Later that evening, I checked the online version of the newspaper for which I had been interviewed. I found an article about our vigil and was shocked to see that the headline stated that we had trespassed and broken the law! The story indicated that the protesters had trespassed in order to obtain the footage of the barn-even though I had told the reporter that the footage had been given to us by a supporter. I called the newsroom and insisted that the story be corrected. As soon as I mentioned the word "lawyer," the newspaper staff said that they would try to resolve the issue. The story was ultimately changed to better reflect the actual events, and it no longer stated that we had been the ones who had trespassed.
Later, a friend called and told me that she had seen the article in the newspaper and that I was on the cover. Of course, I drove to the store and bought three copies! The article also featured a large picture of another activist carrying a sign that read, "Birds Suffer and Die for Eggs You Buy."
The next day, there was an editorial about our group vigil, saying that we had taken the "chicken's side" and that we were "lost forever." Another newspaper published a one-sided article, having never even interviewed any of us. Many letters to the editor were also published over the next three days with a mixture of positive and negative comments.
After feeling stressed for a couple of days, I decided to ask myself, "What would Ingrid do?" That is how I have tried to deal with some of the more unpleasant comments and situations that I have encountered in the past with respect to animal rights, and it has worked for me. I just try to remember all the hugely creative things that PETA has done to raise awareness, and I compare my situation to those. I am not going to worry about close-minded, uncompassionate people-I know that there will be more open-minded people reading the articles, editorials, and letters and that many of them will make changes in their lives after reading about what happens to egg-laying hens on factory farms. I figured that Ingrid would make the most out of it, and that is what I have done. This coverage has allowed me to have numerous conversations with coworkers and friends about factory farming, and it has gotten more than a few of them thinking about animals.