Nellie's Obituary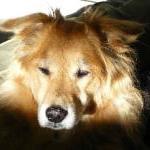 It is always tough when we lose a loved one. That is what happened to me when my beloved companion Nellie recently passed away. I write this post in honor of her.
Nellie, 14, a locally prominent and proud German shepherd/retriever mix, passed away peacefully to her eternal rest on Friday, November 12, 2010, at the Manheim Pike Veterinary Hospital in Lancaster, Pa., while in the arms of her adopted parents, Ken Siegert and Rick Thompson.
Nellie was adopted as an orphan from the Humane League of Lancaster County on December 1, 2002, at around the age of 6. She enjoyed walking, napping, and eating (once she helped herself to a hefty serving of a vulnerable blueberry pie!). She specialized in observing chipmunks.
Preceding her in death were a stepsister, Maggie, and a stepbrother, Babe, both on November 12, 2003, and a beloved stepsister, Maud, on August 13, 2009. Surviving Nellie are a stepbrother, Toby, and a stepsister, Winnie.
Nellie had been in declining health for several months as a result of her age and a brain tumor. She will long be remembered for her gentleness, generosity, kindness, and limitless love.
A private funeral and cremation took place on Tuesday morning, November 16, 2010, at the Allied Veterinary Cremation Service in Palmyra, Pa. In lieu of flowers, contributions may be made to Nellie's True Friends Memorial at PETA.