My First Time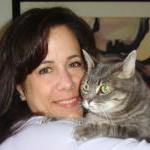 I'm sure we all remember the first time that we drove a car, went on a date, or had our first real kiss. At my age, I didn't think there were any "firsts" left to surprise me. But as I raised my awareness of animal rights and increased my commitment to the movement, I realized that I had yet to lend my voice, arms, or legs to make a statement for animals.
Whenever I'd hear about a demonstration, my heart would always glad to know that people were speaking up for animals. Yet, I had been intimidated at the thought of participating in a demo myself because I didn't know what to expect-my mind just raced with the possibilities. I'd pictured confrontation and harassment, wacky anti-protesters, police intimidation, and being asked to scream my head off even though that's not in my nature. But one day, I read the following quote by Edward Everett Hale and knew that my time had come to take another stand for animals: "I am only one; but still I am one. I cannot do everything; but still I can do something; and because I cannot do everything, I will not refuse to do the something that I can do."
I signed up to participate in my first-ever demo-a protest against Ringling Bros. and Barnum & Bailey Circus on opening night in Bridgeport, Connecticut. It was truly a cold, dark, and windy night. Parking wouldn't be easy, and the area where the circus would be performing wasn't the safest. It would have been easier to stay at home and tuck my little girl into bed. But every time my mind filled with doubt, I thought about the animals who needed me to speak up for them. THEY were cold, lonely, sad, beaten, scared, overworked, and dispirited, and they needed me to stop making excuses.
After I found our group, I was greeted by other supporters whose inspiration and commitment helped fill me with an urgency and determination to share the anti-circus message with circusgoers. There was great camaraderie and an unwavering sense of purpose among us. As we carried our signs and tried to distribute leaflets, most of the circus attendees wouldn't look at the signs or make eye contact. But some did! And as some looked, you could see that they were acknowledging an inner conflict that had been conveniently buried inside them. Perhaps most satisfying was the few thoughtful conversations I had with concerned ticketholders. Although they did not turn away from the show that night, I believe that a seed of compassion was planted and that the seed will continue to grow until tickets for the circus go on sale again next year.
As it turns out, spending just a few hours of my time trying to raise awareness about the misery and abuse that animals in the circus endure-all for the sake of "entertainment"-helped to satisfy a sense of responsibility that continues to grow inside me. I learned so much about myself that night. I learned that my preconceptions about participating in a demo were wrong (except for the one wacky anti-protester), but more importantly, I learned that there is always something more that I can do to help animals and that "I will not refuse to do the something that I can do."
As a matter of fact, I was reminded of this lesson in another way just last week. My 4-year-old daughter gave me a crisp one-dollar bill from her money bank. She said it was for my "work." Wondering if she wanted me to buy office supplies or stamps with her dollar, I asked her what she meant. Without missing a beat, she said, "It's to help you save animals." As you'd expect, I was so moved that I cried with pride and happiness.
My daughter's first charitable gift is taped to my mirror as a reminder that there is always something we all can do-big or small-to help animals. And until all circuses have only human performers, I'll be at my second demo and third and fourth ….
This blog was written by PETA Foundation staffer Christine Leible who lives in Connecticut with her family. She is looking forward to the holiday season, accented by Tofurky and soy nog.