Me & U, peta2!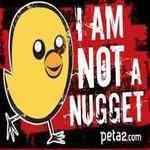 PETA members from all walks of life stand together in defending animals from suffering. We may be separated by geography or age, but we are connected as one community of people who believe that animals deserve to live free from suffering and abuse. We reach out to each other in many ways, but PETA has harnessed the Internet like no other group in order to bring us together.
Reaching out to young people, peta2 updates more than a half-million subscribers via its e-news; more than 200,000 Facebook fans; and more than 280,000 MySpace friends. And peta2's Street Team, consisting of more than 100,000 young activists, is spreading the message of compassion far and wide. The numbers are impressive, but meeting the people behind the statistics is what really gives me hope that the future of animal rights is in good hands.
Recently, I saw for myself how effective all this social networking stuff is. I was introduced to a local peta2 member and Street Team activist who found me via Facebook. She has been an advocate for animals since she was a very young girl, and she is especially outraged by the horrible abuses inherent in factory farming. She organized a Halloween protest at KFC, and she invited me, along with other Facebook friends of animal rights groups, to join her. The demo itself was quite a success: One woman drove into the parking lot to buy some chicken as I waved a flier at her for consideration. She took the information, looked it over, chatted briefly, and said she agrees with PETA. Period. "I agree with PETA." Then she turned her car around and boycotted KFC! We made the world a better place for animals that day.
peta2's Street Team activists will be fighting for animals long after I've returned to mother Earth. Separated by more than 40 years in age, we stand shoulder to shoulder, speaking out as one for the rights of animals. As they say in Africa, re mmogo. We are together!