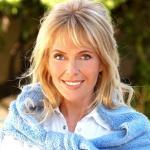 After tallying PETA Prime readers' and our judges' votes, we've picked the finalists in our "Sexiest Vegetarian Over 50″ contest. Now it's time to vote for your favorite to help us decide who should be crowned the winner!
So what is it about being vegetarian that keeps our finalists sexy? Veggie foods keep us in peak condition by providing us with all the nutrients that we need, minus all the saturated fat, cholesterol, and contaminants found in animal flesh, eggs, and dairy foods. In fact, on average, vegetarians and vegans live six to 10 years longer than meat-eaters.
And although being named the Sexiest Vegetarian Over 50 will be a very rewarding experience in itself, our female and male winners will also each win a five-night stay at Laguna Lodge,  a luxurious, natural, 100 percent eco-resort in Guatemala. So what are you waiting for? Voting ends on December 6, so cast your vote today to help us choose who should emerge victorious .  And if you haven't already adopted a vegetarian diet in order to improve your health, save animals, and protect the planet, click here to get started.