Creating Change for the Cause!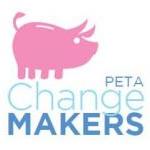 If you're visiting this site, you are probably a person who wants to create positive change for animals. Perhaps that change is personal. Maybe you are considering going vegetarian.  Maybe you are already vegetarian, and now you are taking the next logical step by going vegan.
Or maybe you are kicking the fur out of your wardrobe. Or perhaps you have decided to spend your entertainment dollars in more compassionate venues, leaving the circus and zoo behind. Or maybe you've made the decision to use cruelty-free cosmetics and household products.  Each of these wonderful life-changing decisions will go a long way toward helping animals, but this article is about a different kind of change-the change jingling in your pockets!
I am talking about creative fundraising for animals in need-finding opportunities in your community, attracting others so that talent can be leveraged, networking to spread the word, and coming up with creative ways to make change, both literally and figuratively!
Have you ever driven through town on a weekend afternoon and come across a group of teenagers waving you over to a car wash to raise funds for their school? Why not organize a car wash for PETA or for an animal shelter in your community? Or what about holding a rummage sale at your place of worship to benefit animals? Why not post fliers around your neighborhood and ask your neighbors to join you for a Saturday yard sale to raise funds for a local rescue group? Or host a meal to raise funds for emergency animal care in your community? You'd be surprised at how quickly a little bit of change here and there adds up!
And now with PETA's newly launched Change Makers website, raising money to help animals is easier than ever! You can create and personalize your own fundraising webpage to celebrate a special occasion (such as your birthday or a sporting event that you're training for) or to support an animal-related cause that's important to you. The ways in which you can help animals with this great new online tool are limited only by your imagination. You can easily share your custom-made campaign page with your friends and family members, giving a little more hope to animals with each gift that is made to your page.
The number of ways to create change for animals is unlimited! What are some of the ways that YOU plan to create change?