Are You Ready for Fur-Free Friday?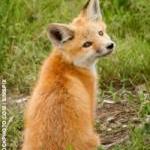 What's the best way to burn off that extra slice of vegan pumpkin pie after Thanksgiving? By taking part in Fur-Free Friday! Every year, compassionate people around the world join together on the day after Thanksgiving to educate holiday shoppers about why fur belongs on animals, not holiday shopping lists. There are tons of simple ways to promote this cruelty-free day of action. Many of us hold signs and hand out leaflets outside stores that sell fur, and some people even dress up for the occasion!
Fur-Free Friday falls on the busiest shopping day of the year, so it's the perfect opportunity to remind people that the fur sold in stores comes from living, breathing animals who were cruelly confined and killed. Most fur comes from animals who were raised in unbearably cramped and barren cages on fur farms,where they were deprived of everything that was enjoyable and important to them, such as running, swimming, making nests, and finding mates. The fur industry also uses the cheapest and cruelest killing methods available-including suffocation, electrocution, gassing, and poisoning.
China supplies more than half the finished fur garments that are imported for sale in the U.S., but no regulations govern Chinese fur farms. Animals such as foxes, minks, rabbits, dogs, and cats are yanked from their cages, slammed to the ground, and bludgeoned before workers rip the skin from their bodies-often while the animals are still alive. Fur from China (including dog and cat fur) is often deliberately mislabeled as fur from other species and is exported to countries throughout the world to be sold to unsuspecting customers.
It's hard to believe, but even in 2010, some people still have no idea about the cruelty that's behind every fur garment. Shoppers can only make compassionate choices if they are informed-and it's our job to educate them! So what are you waiting for? There is probably a Fur-Free Friday event happening near you-visit PETA.org, Facebook, or Meetup.com to find out if an event is taking place in your area. If there isn't an event scheduled near your city, why not organize one yourself? It's a great way to help animals while making new friends.
How do you plan to get active for animals this Fur-Free Friday?