Why This Vet Went Vegetarian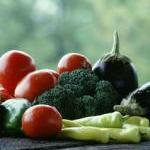 For much of my adult life, my diet was an afterthought. I simply ate when I was hungry, and my choice of food was usually dictated by convenience. Since I spent 50 to 60 hours per week at the veterinary hospital and my cat Whitney had not yet mastered the art of cooking, breakfast was a few bites of Entenmanns chocolate cake, and dinner usually consisted of a drive-through Burger King whopper, fries, and a shake.
One fateful day in 1996, a client and friend invited me to a PETA event in Los Angeles. As I had no real knowledge of PETA besides what I had heard through the mass media, the thought of renting a tux and schlepping to Los Angeles for a formal affair left me feeling ambivalent. But my friend closed the deal by telling me that Paul McCartney was going to be there. As a lifelong Beatles fan, I said, "Uh, sure. I'd love to attend and learn more about PETA," with visions of jamming with Paul and doing harmony to "I Saw Her Standing There" in my head.
My vegan meal was surprisingly tasty, and Elvira was on hand to remind me that I was overdue to watch a good horror movie. As I listened throughout the evening to the accomplishments and battles that were being fought in behalf of animals, most of which I had never given any thought to, I was inspired to do more to help. I left with a bag of goodies for the road and a picture of myself with Kim Basinger. I joined PETA shortly thereafter, and the rest is history.
I began reading a paperback that was in my bag of goodies, Animal Liberation by Peter Singer. The book describes speciesism and argues that we deprive animals of their very lives, solely to satisfy our culinary tastes, when meat is not a necessity in our diets. Upon reading more about the deplorable conditions faced by animals on factory farms, I immediately decided that I could no longer contribute to such despair and suffering. Although I didn't know what I would eat instead of meat at the time, I knew that not making this small sacrifice in behalf of animals was incompatible with my life's work.
My newfound awareness of issues affecting animal welfare changed my life forever. Twelve years later, I'm a proud PETA member, donor, and blogger, and I own numerous vegetarian cookbooks (I have a pesto/potato stew in the crockpot as I write this). My vegetarian diet is healthier by leaps and bounds, even if I set the bar pretty low to begin with. And more importantly, I feel better knowing that I no longer contribute to the suffering and death of animals through my dietary choices.
I recently wrote an article ("Are We Consistent in Our Treatment of All Animals?," Veterinary Forum, Oct. 2007) in which I attempted to make the case that it is logically inconsistent for veterinarians–who took an oath to relieve animal suffering–to eat meat, hunt, or fish. It is my hope that if you eat meat, you will consider modifying your diet, be it for philosophical, health, or environmental reasons. Although it has never been easier to find tasty foods devoid of animal products, I believe that each individual must reach this decision on his or her own timetable. I hope to have planted the "seeds of vegetarianism" here. I'm living proof that people can blossom with the right mix of seedlings planted at the right time, resulting in changes that save animals' lives.
If you are already vegetarian or vegan, what was your "seed"? If you haven't yet made the switch, what's holding you back? Can you pledge to be vegetarian for 30 days in 2009?