Veggin' Out in Finger Lakes Wine Country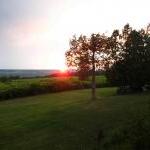 Looking for fall colors, lovely landscapes, and vegan food and wine? New York's Finger Lakes region offers rolling hills filled with green grapevines, yellow wildflowers, red cardinals, roadside stands, u-pick fields, brilliantly colored trees, storybook blue skies with powder-puff clouds, and silver-rippled glacier-carved lakes.
I came to visit a farm sanctuary and discovered excellent wine trails around the lakes with tastings as low as $1 per flight. My favorite stop along Keuka Lake was Hunt Country Vineyards. The business is named after the Hunt family, which has farmed the local land for many generations. Not only was each wine terrific, no animal-derived products were used to make it—and vegan winemaking has been on my mind since I read another Prime post on the subject some months back.
After meeting the Hunts' big, amiable dog Gus—a regular in the tasting room and an inspiration for several of the creations found there—visitors were given a tour by Art Hunt through fields of Rieslings (the Finger Lakes' most-planted variety) and other crops across 172 acres. He discussed sustainable production practices that he uses, studies, and shares with viticulture scientists and students.
Art told me that the combination of warm days and cool nights enabled them to grow fruit of incredible intensity. Art's children and their spouses help with the independent family business.
Instead of detailing the dozens of awards won by their wines, Art's wife Joyce discusses the vegan wine as I taste such delicacies as their Valvin Muscat 2009 (orange blossom bouquet), Pinot Gris 2008 (pure fruit without being too sweet) Cabernet Franc 2007 (hints of cherries, currants, and pepper), and Late Harvest Vignoles 2007 (rhubarb pie in a glass). Joyce said that some vintners use egg whites to absorb bitterness, but wineries such as Hunt Country follow growing and winemaking practices to keep flavors pure.
Looking for food? Restaurants here have access to a grand bounty of fresh-off-the-farm veggies and fruits. In nearby Hector, a big stop on the new Finger Lakes Cuisine Trail, I found two omnivore-friendly venues with chefs so skilled at vegan fare that they could nudge mainstreamers toward healthier, more humane choices.
At Red Newt Bistro, master chef Debra Whiting told me that the all-fresh menu, which changes monthly, always has at least one vegan entrée and dessert. "I like to be innovative with vegan and gluten-free dishes," she says. It shows. I loved her organic field green salad with house-made cherry balsamic vinaigrette and her Swiss Chard Bundle stuffed with quinoa, shiitake mushrooms, roasted red pepper, and garlic scape sauce. Husband David makes the wines.
Pass through the festive bar scene at Stonecat Café to the tranquil dining deck overlooking the vineyards by Seneca Lake. Chef Scott Signori prepares hyper-local, mostly organic fare, with choices denoted on the menu as vegetarian, vegan, and gluten-free. Even the tofu-phobic are wowed by the marvelous grilled smoked maple tofu. Its thin-sliced chewy goodness is complemented by coconut cream sauce, sticky rice, and braised Swiss chard. Pair with a local Gewürztraminer; finish with blackberry wine sorbet. The sunset is free. Vegan hunger pangs can also be sated in Watkins Glen at Glen Mountain Market.
Lodging? Log Country Inn has vegan-friendly cuisine. Natural wonders? Behold the waterfalls at Watkins Glen State Park. And even after the leaves fall, there's color galore and celebrations every week in Finger Lakes Wine Country. For information, check out this site or call 1-800-813-2958.