Vegan Unplugged: A Pantry Cuisine Cookbook and Survival Guide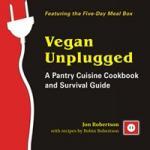 Living in Southern California's earthquake zone, I have the usual assortment of canned goods and bottled water in my pantry. And I think I know where the flashlight is. But after reading Vegan Unplugged, I realize that I'm not as prepared for an emergency as I'd thought.
Vegan Unplugged is a well-organized manual for survival. It includes step-by-step instructions on how to prepare yourself, your family, and your companion animals for any emergency and tips on how to eat well anytime the electrical power fails. Not only does it tell you how to cook with nonperishable items in case of a power outage, it's also a great resource for occasions when you don't feel like spending lots of time cooking.
The meal plans are creative, and the recipes are delicious. I know because I have already tried several of them in anticipation of putting together my 5-Day Meal Box (now, doesn't that make you curious enough to buy this book?). Forget about eating beans out of the can—or relying on peanut butter and crackers. This book has an assortment of gourmet recipes that can be made in minutes, such as Almost-Instant Black Bean Chili, Pantry Pasta Salad, Fire-Roasted Blueberry Cobbler, Rice Noodles With Spicy Peanut Sauce, and many more. All these recipes use a variety of canned goods, pasta, quick-cooking grains, condiments, and an assortment of flavor-makers. And since most are one-pot meals, cleanup is a snap.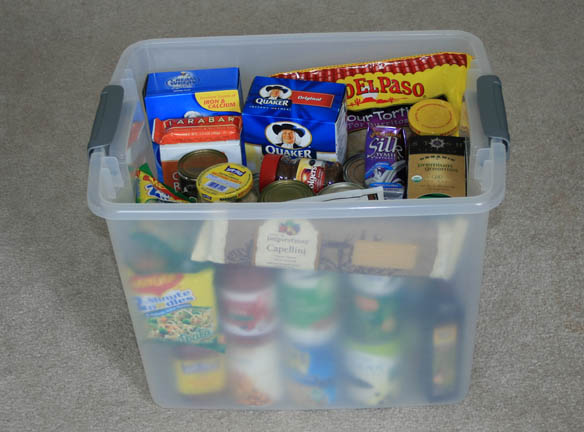 There is a whole chapter dedicated to your companion animals, and it includes disaster-preparedness checklists for before, during, and after an emergency. We need to plan for our companions, as they cannot do it themselves.
This book is a must-have for everyone. Wherever you live, you never know when the power will go out, and when it does, you'll be prepared if you've followed the advice in Vegan Unplugged.
Check out the Vegan Unplugged Blog, where you can find pictures, recipes, and fun stuff from the book. Vegan Heritage Press is a cool new site that only sells vegan cookbooks.
Try this sample recipe from the book: Beat-the-Blahs Black Bean Patties. They are very easy to make and oh-so yummy. And don't wait for that blackout. Run out and buy the book now so that you can try all the other delicious recipes in Vegan Unplugged.
Beat-the-Blahs Black Bean Patties
These incredibly tasty patties can be served with a variety of sauces. It all depends on what flavor you're craving. Spicy peanut sauce works great, and so does salsa or barbecue sauce.
1 (15-ounce) can diced white potatoes, drained
1 (15.5-ounce) can black beans, drained
1 tablespoon dehydrated minced onion
1 teaspoon dried parsley
3/4 cup dried breadcrumbs
Salt and black pepper
1 tablespoon olive oil
1. In a large bowl, mash the potatoes and beans with a potato ricer until well mashed. Add the onion, parsley, breadcrumbs, and salt and pepper, to taste. Mix until well combined.
2. Divide the mixture into 6 equal portions and use your hands to shape into firm patties.
3. Heat the oil in a large skillet over medium heat. Cook the bean patties until golden brown on both sides, about 5 minutes per side. Drain on paper towels and serve hot with your favorite sauce.
Makes 6 patties

How did yours come out?