Prime Inspirations: "Retirees" Tackle Animal Overpopulation—and Win!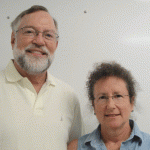 The following is a guest post by PETA Augustus Club members Tom and Marsha Garrettson:
In honor of PETA's 30 year anniversary, we wanted to give PETA a present to help celebrate this milestone. So we commissioned an artist from the University of Miami to paint animals on a sail with the goal of sailing our boat from Key Largo, Florida, to the PETA headquarters in Virginia and present this artwork as a gift to PETA for giving a voice to all animals for the past 30 years.
We moved to Key Largo with the intention of continuing our lifetime of sailing, but I wasn't smart enough to understand that animal people never retire from helping animals. Ingrid has often said that you can make a difference in helping animals. Marsha put these words into practice when we retired to Key Largo 16 years ago.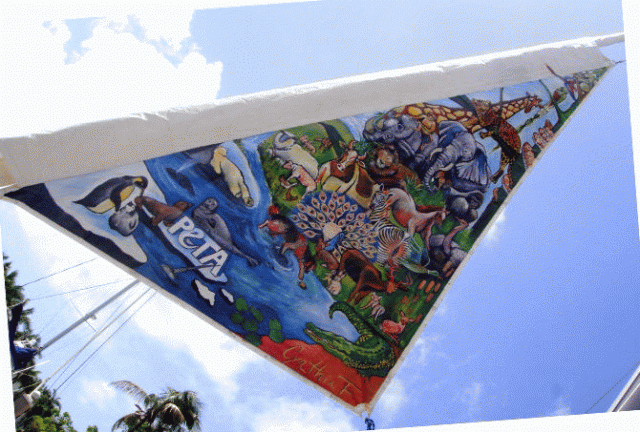 Shortly after moving into our new home, Marsha paid a visit to the local government-run animal shelter. It was immediately clear that much needed work had to be done to fix this failing shelter.  The first need was to address the quality of life of each animal, the second was making changes to increase adoptions, and the third was addressing the animal overpopulation problems in the community.
After Marsha joined the animal shelter staff as manager it became apparent that the changes that were needed would never happen under government-run conditions. Together, we overcame the local government's resistance and privatized the shelter 12 years ago.
The most important animal-shelter data to focus on is the total number of dogs and cats that are brought to the shelter each year. This is why an animal shelter exists. Increasing adoptions or humanely euthanizing animals because of need for space will never influence this number. This is why maximum efforts are needed offer free spay and neuter surgeries to the community.
Not wanting to be the caretakers of the status quo, we quickly made plans to address the animal overpopulation problems in our community by opening a free spay and neuter clinic at the animal shelter. We started seeing good results after the second year of our free spay and neuter clinic opening. For six consecutive years, we continued to see a steady reduction of animals coming into the animal shelter. By the end of the eighth year, this steady reduction totaled 54% from the all-time high. This means that the shelter's animal runs are never full, we rarely see puppies, and we have been able to adopt out 100% of the adoptable dogs for the last seven years, and last year we adopted out 99% of the adoptable cats.
Tom and Marsha Garrettson moved to the Florida Keys from Maryland after Tom retired from a career with the federal government. Marsha now runs the Monroe County Animal Shelter. Marsha and Tom have also formed the Humane Animal Care Coalition in order to overcome local resistance to progressive animal welfare. Tom and Marsha are also making sure that their fight for animals will continue well into the future by including PETA in their estate plans.