Peru: Machu Picchu, and Quinoa Too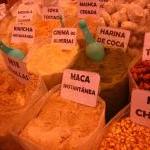 Hidden on a cloud-piercing mountain 7,970 feet high, Machu Picchu mesmerizes with palaces, baths, temples, residences, and plazas that were built in the early 1400s by the Incas and are 60 percent intact. Serving as a spiritual sanctuary and an outpost for reading the skies for agriculture, Machu Picchu (Quechua for "old mountain") displays architectural genius. The building blocks, sculpted from the mountain's granite, were angled for earthquake resistance and so precisely fitted that centuries later, no gaps appear in the mortarless joints.
Escaping notice of Spanish conquistadors, the Andes mountaintop city was revealed to the world in 1911 by an American named Hiram Bingham. Machu Picchu is a 4-day hike from Cusco along the Inca Trail, or you can take a train from Peru's Sacred Valley, followed by a zigzagging bus ride up the mountain.
Adjusting to the high elevation is aided by the age-old practice of placing locally grown coca leaves along the gum line. The leaves, which have a faint spinach flavor, apparently have no psychoactive effects when used this way or in the tasty coca tea served countrywide.
In high-altitude Cusco, one of South America's oldest cities, the Qorikancha temple was stripped of its gold adornments by the conquistadors. There, I was reminded of the ingenuity of the original residents who lived and worked in concert with pacha mama (mother nature), a concept largely abandoned by "advanced" societies. A few miles away in the Maras salineras, families worked the terraced salt mines as they have for generations.
While vegetarian and vegan dishes were in somewhat short supply at the restaurants along my route, I was delighted by the abundance of vegetables and fruit indigenous to Peru. Before the Spanish arrived in Peru, taking along animals for their meat-heavy diets, the Inca and other native Peruvians made healthy dishes using such local staples as maize, potatoes, and beans. There's still pride in the more than 2,500 varieties of potatoes grown in Peru. Among my surprising finds was choclo, a large-kerneled corn.
Plant-based protein was easy to find. Breakfast consisted of fruit and light, tasty kiwicha, a nutrient-rich amaranth. Mix the grain with molasses or chocolate to make alegria (Spanish for "joy"). And I loved the refreshing fruits. A granadilla tastes like a cross between a passion fruit and a pomegranate; it is gooey but not sticky and has crunchy, edible seeds. Other fruits include the pepino, an apple-sized mini melon; the cherimoya, a custard apple; and plátano manzano, tasty tiny bananas.
I got plenty of essential amino acids because my meals featured various presentations of quinoa. I enjoyed a salad on the train to Machu Picchu, small plates of quinoa at the trendy eatery Chicha, and a wonderful soup at Tambo del Inka, a superb new hotel in the Sacred Valley. Worth noting: Nutrient-packed quinoa and amaranth are getting long-overdue attention for their potential as efficient protein sources and for improving nutrition among growing populations worldwide.
Other culinary highlights: Peruvian avocados, amarillo (yellow hot pepper), huacatay (a native herb), and fresh lemons. The latter are the perfect tart marriage of lemon and lime; they're green and the size of golf balls. Peru's soil accounts for the unique flavor, fine skin, and lovely scent of the lemons, which are famous as a key ingredient of ceviche. But you can create a fish-free version of the dish by simply drizzling the Peruvian lemon juice over the avocados. My carne companions swooned when they sampled it from my plate.
I didn't try the pisco sour, the country's national cocktail made with egg whites. But the light alcoholic juice is tasty served straight.
Have you found any vegetarian eateries in Peru? I read about Lima's AlmaZen and Cusco's Dharma, Govinda's, Comedor Vegetariano, and Prasada, but I did not visit them.