How to Organize Your Own Vegan Potluck!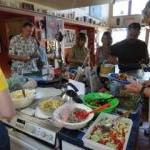 Vegan potlucks are a wonderful way to enjoy great food and great company, but more importantly, they also provide a terrific opportunity to reach beyond our own circles and expose others to the vegan lifestyle. I have read studies that say the average American eats 96 animals a year. Just imagine, you can save 96 animals each and every year if you can influence one meat eater to go vegan. Even if we don't convert the meat-eaters who attend our potlucks, we are still saving animals' lives by making sure that at least this one meal is animal-free.
Over the years, we have found that the key to a successful potluck is to make it fun. No business, no coercion, no guilt trips—just plain fun. We make sure that there are plenty of activities, such as hiking, boating, or outdoor games. People love barbecues, so a vegan potluck barbecue with veggie kabobs, grilled veggie burgers, or Portobello mushrooms with grilled garden corn is always a hit. People come for the fun activities and then start to see that eating vegan is not some giant personal sacrifice—it's delicious! I for one am a big fan of Gardein products, which are perfect for such occasions. See this recipe,  for example.
When we first began organizing vegan potlucks, we started with a core group of family members and friends and picked a public park. We posted flier invites at the local college and in our local weekly paper. We also asked our local animal shelter to put a blurb in its newsletter. The flier invited "animal-friendly people and their family and friends." Attendees didn't need to be vegetarian or vegan, they just needed to bring a vegan dish (such as salad or chips) to share and a folding chair to sit on. We provided a folding table, drinks, plates, and eating utensils.
Over time, our potlucks have grown by word of mouth, and because they're often attended by friends and friends of friends, we have been able to have potlucks hosted at people's homes. This gives us an opportunity to get to know each other better, to tour each other's vegetable gardens, and to meet the various animal companions. At our September potluck, we asked everyone to bring a dish for people and some produce for the animal companions. Everyone got to feed special treats to rabbits, goats, and a pig. I have no doubt in my mind that the meat-eaters who attended the potluck will think twice about mindlessly swallowing pork after "meeting their meat" and watching her squeal with delight when they scratched her belly.
If you live in an area that already has vegan potlucks, I really encourage you to join in. If there are no vegan potlucks in your area, don't be afraid to organize one and watch it take off from there. When we first started our potlucks, we were careful to coordinate among each other to make sure that we had a least one main course, one salad, and one dessert. These days, we just relax and go with the flow, and we always seem to end up with a well-balanced, wonderful selection of delicious food.
I will provide some of the recipes that have been the biggest hits at our potlucks in future blogs, but until then, I would love to hear about your experiences organizing vegan potlucks or about your favorite vegan potluck recipes.
More: