Epazote: The Simple Secret to Cooking Perfect Beans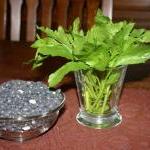 Cooking with dried beans can be intimidating, but don't worry: It's easy! Sure, opening a can may seem easier, but trust me, it's not much more difficult to do it the old fashioned way–and it's much cheaper. I think the hardest part is remembering to soak the beans. And freshly cooked beans have a taste that just can't compare to canned beans. They are almost sweet.
As a native of Southern California, I have the advantage of being exposed to Mexican foods that almost always involve beans. Mexican cooks have long known that cooking beans with the herb epazote adds an unusual and delicious flavor and aids in their digestion (reducing the gas they often cause). I buy fresh epazote in my local Mexican market, then dry the leaves in my dehydrator. You can easily find dried epazote in many herb shops online. Here's an easy recipe for cooking beans.
Easy Dried Beans
2 cups dried beans
1 Tbsp. dried epazote (optional)
1 Tbsp. dried oregano (optional)
1-3 cloves garlic, sliced, chopped, or minced (optional)
Note: Do not add salt to the beans while cooking. It makes the beans tough.
Rinse beans. Place in a large glass or ceramic bowl. Cover with fresh, cold water by about 2 inches. Let soak at least eight hours or overnight.
Pour out soaking liquid and rinse beans. Place in a large cooking pot and add herbs and garlic if you're using them. Cover with about 2 inches of fresh, cold water and bring to a boil. Turn down to a simmer and cover and cook for about 1 hour, stirring occasionally. If the beans don't taste done, cook another 20 to 30 minutes or more until the beans are tender. Add more water if needed.
When done, serve immediately or let the beans sit in the pot in their cooking liquid to cool for later use. Letting them cool in their cooking liquid keeps the beans from drying out. Before storage, drain some, but not all, of the cooking liquid.
Makes 6-8 servings
My personal favorite time to cook beans is Saturday morning while I am having my coffee and making my grocery list. By the time they are done, I am ready to go shopping, so I let them cool on the stove, in their cooking liquid, until I get home with the groceries. Once home, I pop the covered pot right into the fridge and let the flavors blend. That evening, I pull out the pot of beans and reheat for dinner. Awesome!
We eat a lot of beans at my house. I like to cook up a big batch, keep half for one or two nights of dinners, and freeze the rest in small containers so that I can pull them out when I need them. Beans freeze really well. Just make sure that they are cooled and drained of their cooking liquids first.
Try your beans in black bean soup or epazote black bean chili. There are a lot of great bean recipes at VegCooking.com. I also love to eat beans plain. There is nothing as delicious as a bowl of freshly cooked beans, with maybe a side of brown rice and a big green salad. Have some toppings handy, such as fresh chopped parsley, finishing salt or tamari, chopped black olives, capers, diced tomatoes, or anything that you think might compliment the type of bean you are serving.
I would love to read about some of your fresh-cooked bean recipes and ideas!