Toys and Activities to Stimulate a Canine Brain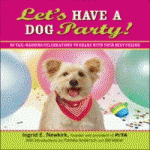 Dog guardians all know that the most exciting time of the day for Spot is playtime. We all play games such as fetch, but what about some games that are fun for you and your furry friend and have the extra benefit of stimulating your companion's brain? I discussed this topic in my book Let's Have a Dog Party! and thought I would share the following excerpt with you:
Noncompetitive games that you and your dog can play together include basic problem-solving skills and can earn your dog ribbons and trophies.
The Buster Fun Bone Treat is an extremely hard game in which a dog has to try to extract differently colored bones from a container in order to win an award. This game requires an investment of your time, but the delight of seeing your dog learn more and more is worth every second.
The I-Cube Puzzle is a plush cube containing squeaking balls that dogs can retrieve from inside it. The Hide-a-Bee Puzzle and Hide-a-Squirrel Puzzle stimulate dogs' minds and play on their curiosity. Available [online at Tail Waggers].
If you learn how to get your dog to use your (or anyone's) scent as a clue to which object to select from a group of objects, you can even amaze your friends by having your dog pick out the card you selected and then put back in the pack. Roy Hunter's amazing book Fun Nose Work will show you how. This book … is full of interesting interactive games that engage a dog's nose and his brain and allow you to play with your dog as you both learn. In this book, Mr. Hunter, who spent twenty-five years working in the dog's section of the Metropolitan Police force of London, England, describes how dogs can be trained to find anything and everything including, in the case of a dog in New Zealand, six-inch nails under six inches of water! He takes guardian and dog through their paces, starting with easy-as-pie lessons to mind-boggling feats of tracking. Everything is done by understanding a dog's natural ability and rewarding progress.
How about you? Have you made up any games-or come across any-that seem to stimulate Fido's mind and senses?