This Labor Day, Let's Remember Those Who Have Never Had a Day Off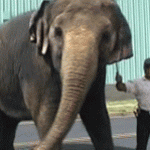 As we celebrate Labor Day, we want to take a moment to remember the suffering of animals who labor for human "entertainment."
From the very moment that she was born into captivity, Tonka has never known the freedom of a holiday.
For more than 20 years, she has been the "property" of Ringling Bros. and Barnum & Bailey Circus. She has been shackled in line alongside dozens of other elephants and forced to perform silly, often physically painful tricks over and over again, day in and day out.
Circuses such as Ringling are sad, deadly places for animals. Baby elephants are taken away from their loving mothers and forced into lives of punishment, debasement, and extreme loneliness. PETA has photographic evidence showing that trainers cruelly wrestle baby elephants using ropes, sharp hooks, and electric-shock devices in order to force them to learn tricks. We have also videotaped Ringling's methods for keeping elephants in line, which involve striking and hooking the animals with steel-tipped bullhooks. Trainers sink the sharp metal point of a bullhook into the sensitive skin behind the ears and knees of even very young elephants, causing them to bellow in pain and raise their trunks in submission.
Elephants in Ringling's possession are chained constantly inside filthy, poorly ventilated boxcars for an average of more than 26 straight hours—and often 60 to 70 hours at a time—when the circus travels. This is absolute agony for them. In the wild, elephants walk up to 30 miles a day, shifting their enormous weight to avoid back and leg problems that would otherwise result from standing still. Elephants don't understand why they are kept so tightly confined or why they are forced to perform in front of screaming audiences, and Ringling beats them until they comply immediately with every order.
Thankfully, this is a fight that we are beginning to win.  Ringling hasn't been able to keep a national sponsor in years because of the information on circus abuses that PETA has provided. More and more cities across the country are banning animal acts after receiving our information about the cruelty inherent in the hideous animal circus industry. And although it is pushing back with outreach, money paid to "mom blogs," library materials touting the "kindness" of the circus, and free tickets for schools, Ringling is being forced to perform fewer shows at smaller venues as families choose humane forms of entertainment rather than expose their children to such a sad and archaic display of domination of abused and deprived animals.
So, for this Labor Day, we at PETA would like to thank all of you who have signed the petition and made the donations that have made it possible for PETA to advocate in behalf of those elephants who cannot speak for themselves. Ringling's nightly show may only last a few hours, but for animals like Tonka, the constant abuse will last their whole lives. Thank you for supporting our work to shut down the saddest show on Earth and all other businesses that exploit and hurt animals for the sake of human amusement.
More: