The Doggies Have a New Vegan Chef!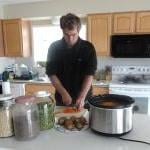 My job just keeps getting busier, so I was happy when my dear friend Chris offered to take over as vegan chef for our pooches. I am happy to report that both our doggies and my parents' canine friends seem to like his dog food recipe even better than mine. Since my picky furry ones liked this new concoction so much, I thought that I would share it with you, my dear Prime readers.
Here is Chris' recipe:
12 cups water
1 3/4 cups pearled barley
1 3/4 cups lentils (any kind)
1 3/4 cups green split peas
4 cups 1/4-inch diced carrots
4 cups diced russet potatoes
1/2 teaspoon salt, optional (preferably food-grade pink Himalayan salt, which can be purchased in bulk at San Francisco Bath Salt Company's online store)
1/2 to 1 teaspoon paprika
1/4 to 1/2 teaspoon cumin
Put all the ingredients in a 6-quart crockpot or slow cooker. Cook on high for approximately 3 to 4 1/2 hours. (Depending on the type of slow cooker you're using, you may need to add more water toward the end of the process as the mixture begins to thicken.)
Makes 12 cups
This recipe is virtually foolproof. You need only become familiar with your own variation of it after trying it a few times. Barley, lentils, and split peas can be found in the bulk section of most grocery stores or at regional wholesale outlets.
You may also cut the recipe in half if you are only feeding one dog. This recipe is not intended to be served alone but rather with a good dry vegetarian dog food, which you can find at most pet stores. Dogs love it! Our big, brown 18-year-old dog just came back from the vet with perfect blood work.
Note: This dish is also very good for humans. It's a perfect blend of fresh food, protein, and complex carbs. For humans, just add more salt, seasoning, and water, to taste.
Finally, I would like to leave you with a quick note on preparation at feeding time. After I take this thick mixture out of the refrigerator, I add hot water to turn it to room-temperature gravy while mixing it with the dry veggie dog food in the feeding bowls … and voilà, the dogs love it!
How about you? Share 'em if you got 'em!