Park City, Utah: Vegan-Friendly Mountain Majesty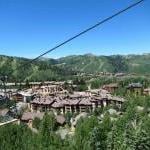 Park City, Utah, offers superb hiking, biking, and skiing—and some great vegan dining. Forty minutes from Salt Lake City, the 7,000-foot-high town is surrounded by the dreamlike Wasatch Mountains.
To learn about the city's history, start at the new Park City Museum. Check out the model of the frightening 1,000-foot-deep silver mine that attracted daredevil fortune seekers to the area—as well as the actual mining cars and lift that were removed from the nearby mountains. In the 1960s, the cars served as a "Skier Subway" as Park City evolved into a ski destination. The gambit failed because skiers emerged from the underground subway frigid and terrified. But the city's ski reputation snowballed because of the area's perfect-powder mountains.
On the upper end of Park City's picturesque Main Street sits Treasure Mountain Inn, hip Green Hotel-certified accommodations. Passionate about conservation, owner Thea Leonard told me that the hotel self-imposes an "Earth tax" of 3 percent. The first Utah hotel to go carbon-neutral, Treasure Mountain Inn buys all its electricity from wind-power facilities. The hotel has reasonable rates and spacious, spotless rooms. In the hotel's café, Morning Ray, guests can find good coffee and a delicious vegan tofu scramble with homemade guacamole and black beans.
Park City Mayor Dana Williams is frequently seen greeting citizens along Main Street—and playing with his band in bars. Williams told me about Park City's commitment to improving the environment—the city, which has earned a Green Power Community designation, runs a free citywide biodiesel-fueled bus system and holds the zero-waste Park Silly Sunday Market from June through September.
Just north of downtown, the McLeod Creek Trail rolls past shimmering water where I spotted lovely birds, cottony blossoms, and amazing mountain peaks. Pocket parks display auto-parts sculptures and improvised instruments made from junked wood, metal and other materials.
Don't miss the Rail Trail, where you can pedal for miles along mountain foothills. On the way from downtown Park City to the Rail Trail  is a shopping center which houses Good Karma, an Indo-Persian restaurant that offers many vegetarian options.  Talk about family-run: The owners and their children shop together (sometimes on bicycles) for fresh whole ingredients for the dishes that they prepare at the restaurant. They also make vegan curries for local groceries. The leavened naan is not vegan, but dozens of other selections are. By ordering the "share platter," my meat-eating dining partner and I were able to sample dishes that we both enjoyed.
You can find vegan options in some of the casual-chic restaurants that are tucked in the Old West storefronts lining Main Street. While ordering Shabu's delicious seaweed salad and spring rolls at a Park Silly booth, I learned that the restaurant's chef gladly veganizes many dishes. At 350 Main, vegan indulgences include a griddled vegetable and lentil cake starter, jasmine rice cakes, and spicy barbecue tempeh.
Looking for a getaway that includes biking, skiing, or hiking? Get information from the Park City Chamber of Commerce and Visitors Bureau or call 800-453-1360. Skiers, ask about the Quick START (Ski Today and Ride Today) deal, which gets you a free same-day lift ticket when presenting your airline boarding pass and online voucher at Park City ski resorts. Can't get to Park City until summer? Don't miss Deer Valley Resort's fantastic outdoor concert (vegan picnic items are available).
On a side note, with all the progressive, green, and animal-friendly vacation options available in Utah, I was surprised to learn about the PETA investigation involving the North Utah Valley Animal Shelter (NUVAS) and the University of Utah. You can read more about the investigation and join the thousands working to stop NUVAS from selling animals to the university for cruel lab experiments. I, for one, think that such practices have no place in a state trying so earnestly to attract tourists who are interested in progressive causes and in living a balanced and compassionate life.