Outdoor Cats Without the Risk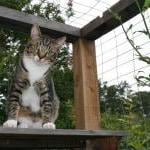 Most cats adore the great outdoors. They like to sniff the smells, taste the plants, and watch the birds. But the outdoors can be a death trap, even for a wary cat. Nibbling on some common garden plants can result in poisoning or kidney failure. Cars are a constant hazard. Cats can be attacked by dogs or other cats resulting in injuries and infections. Potentially deadly diseases such as feline leukemia and feline AIDS can be spread by contact with an infected cat. Spilled antifreeze and rodent or insect poisons are lethal. And, sadly, cats are easy targets for people who don't like animals on their property or who are just plain cruel. Wandering cats have been shot, drowned, burned, and impaled by arrows. The average lifespan of an outdoor cat is just four years.
Our two cats are blissfully unaware of all these hazards—they just want to be outside where all the fun is. We decided to build them an enclosed cat run where they could play and explore safely. Our house has an unused side yard about 5 feet wide. We attached a wooden frame for the cat run to the side of the house and stapled wire fencing to the sides and top of the frame to make it completely cat-proof. (We used a sturdy welded galvanized steel wire with 2 by 4 inch openings.) The run is 3 feet wide and 20 feet long. We made one end of the run tall enough to enclose the bathroom window. Voilà—we just open the window and out go the cats. Right next to the window, we built a tall cat tree with lots of shelves, allowing the cats to look into the neighbor's yard or see what's happening on the street. We also put a door on one end of the run so that we could get in for cleaning.
We've never been able to have a dog door in our house, since it would be an escape route for the cats. But once the run was built, we realized that the dogs might enjoy it, too, so we installed a dog door in the side wall of the house.
Now the dogs have somewhere to go for quick potty breaks, and the cats have figured out how to work the dog door so that they don't have to wait for us to open the window. The cats love their new freedom—Scooter and Genet go outside rain or shine, sometimes spending all night enjoying the sounds and smells of the neighborhood.
If you need some help designing a custom outdoor enclosure, drawings and instructions are available from Just 4 Cats. If you don't have space for a permanent cat run, here are some other ideas for protecting your cat outdoors.
You can make or buy a cat-safe enclosure for your entire yard. The general idea is to fence in the yard, then attach a cat-proof barrier to the top of the fence to prevent your little mountain climber from fleeing the scene. Purr…fect Fence and Cat Fence-In offer ready-to-install cat barriers. Purr…fect Fence also has options available for yards that don't have an existing fence. You'll need to make sure your yard or enclosed area doesn't contain any plants that are toxic to cats.
If you can't put up fences, try Kittywalk for portable cat enclosures that can be set up on a lawn or deck. These are great for apartment balconies, and they can be paired with a pet door to allow your cat full-time outdoor access.
If you have no outdoor space at all, Kittywalk offers an enclosed stroller so that you can take your cat for a walk. Or you can give your cat a comfortable shelf or perch next to a window with a view. Hang a bird feeder outside the window for endless hours of cat TV.
PETA has more useful tips here. Have fun watching your cat enjoy the outdoors!