Betty Hutton's Mink Coat Donated to PETA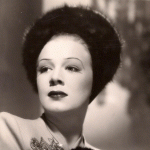 You could have knocked us over with a feather when the following e-mail arrived in PETA's inbox:
"Hi, I am a huge fan of PETA. I am the granddaughter of the late Betty Hutton. I wondered whether donating her mink coat would provide any help to you for campaigns? … Please let me know if this is of interest to you."
Our immediate reply was, obviously, "You bet we're interested!"
Further correspondence with Hutton's granddaughter, Courtney Lindberg, revealed that Lindberg is a vegetarian who gave up meat long ago after wandering into an Italian meat market and seeing animals' bodies on display, ready to be chopped up into steaks and roasts. "Our standards of fresh in America are very different than those in Europe," she told us. "Here we have our pretty clean packages sitting on shelves for buyers, pumped with cancer-causing chemicals to elongate shelf life. In Europe, fresh can mean you pick your animal and they prepare the cut before you. It was then that I lost my appetite for meat."
Lindberg says she stumbled upon her grandmother's fur while cleaning out a closet. Knowing that she would never wear the coat herself—and loath to sell it to a fan who might wear it—she thought of PETA. "I hoped donating it would be helpful," she told us. "In the least, it would ensure that the coat would not be sold or worn in the name of fashion!"
Hutton's mink coat was no doubt the height of fashion (as you can see in her picture) when she wore it during her Annie Get Your Gun heyday, but as Lindberg points out, times have changed. "Since that time, there has been a shift in perceptions, thanks to PETA and others like Jane Goodall and Marc Bekoff," she says. "Ethology has been an important influence in how people now view animals, but there is still so much to be done. … Humans are the only animals on the planet who take more than we need."
Thanks to Lindberg's generous donation, we'll be able to use her famous grandmother's coat to continue to educate people about the cruelty of the fur industry. PETA uses donated furs for a variety of purposes, including fur "funeral" protests, "fur kitchens"—in which marked furs are donated to homeless people (the only people who have any excuse for wearing fur)—and educational displays at libraries and schools. We also donate furs to wildlife rehabilitators for use as bedding for orphaned babies.
Do you or someone you know have an old fur cluttering up the closet that you wouldn't be caught dead in? You can't bring the animals back, but you can make sure that they didn't die in vain. Visit this site for more information on donating a fur to PETA.