What Not to Carry on the Plane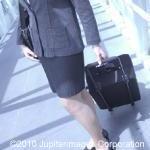 Here's what must have gone through the mind of one recent air traveler as he prepared for takeoff: "No explosives? Check. No liquids in the carry-on? Check. No guns or knives? Check. That just leaves the 18 titi monkeys. Hmm … don't want the X-rays to hurt them, so I'll just stuff them in my clothes and walk through the metal detector."
While this sounds like some bizarre made-up story, it isn't. And that doesn't surprise me much given the crazy realties of the criminal international exotic-animal trade.
Two of the monkeys were DOA in Mexico, and none were in good shape after their ordeal-a nightmare that apparently started when they were snatched from the jungles of Peru, where they were pursuing life, liberty, and happiness. This is but one sad example of the rampant illegal trade in live animals around the world. Titi monkeys are in danger of extinction, so they fetch higher prices than many other animals who are subjected to similar versions of hell.
Easier to fly with, but perhaps even more gruesome, are corpses in suitcases.  A recent study in Paris indicated that more than 11,000 pounds of illegal bushmeat are smuggled on flights from Africa to Paris every week. Much of the dead flesh is sold in open meat markets throughout the city for premium prices. The victims include alligators, pangolins, cane rats, and monkeys-anybody unlucky enough to be trapped by poachers. And this doesn't happen only in France; the U.S. is also a popular destination for exotic meat.
Globally, poachers are killing animals at truly alarming rates for only one reason: money. Some animals, such as rhinos and elephants, are slaughtered for their tusks alone. But many others are killed for their flesh, and the international marketplace offers the potential for huge profits. While the rights of indigenous people have been used to protect the bushmeat industry, many such people are now cashing in on the blood money while they lay waste to the animals who have shared their homeland for millennia.
What can we do about all this? For starters, you won't find me eating any meat-exotic or otherwise. And we must realize that exotic animals in pet stores, including PetSmart and PETCO, have lost not only their freedom but also everything that they need for healthy and happy lives. Don't think for one moment that the little guys in these stores such as hamsters and mice have it any better. Please join me in boycotting all stores that sell live animals. If you are in search of an animal companion, please adopt one from an animal shelter. Finally, spread the word. Many people who only see the animals in stores or with dealers have no clue about the hell that those animals have been through and continue to live through.