Vote for the Cutest Cat in the Whole Wide World!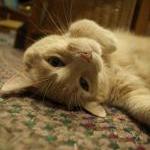 There you have it, folks— click here for the finalists for PETA's Cutest Cat in the Whole Wide World contest. We truly had a great response, and the whole world was indeed represented, as you can tell from our wonderful finalists. One thing is certain: It was really hard to choose the finalists out of more than 1,600 cats-all amazing, cute, and with great rescue stories and backgrounds. But somehow we have narrowed down the selection to five cuties, and now it is your turn to have the final word.
Thanks to all who entered. Remember: You can see all the entries on our Facebook page. The public voting round will go until 8/23. PETA will then tally up the votes and announce the lucky winner on 9/2.