Vegan Shop Review: All Vegan in San Diego, California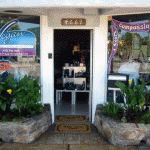 I would like to give you a little tour of a little jewel of a store in downtown San Diego called All Vegan. Joy Zakarian, the proprietor, opened the store in 1987 after realizing that there was a need for a place where vegans could shop 'til they drop and never once have to scrutinize a label for hidden animal ingredients. All Vegan has the largest selection of cruelty-free items that I have ever seen in one shop. It's paradise for vegans, and it's my favorite store.
The first thing that you notice when you walk into the store is the wall of shoes. Zakarian's selection of footwear can't be beat. She has great taste, and with the help of friends and buyer Alison Stanley, she personally picks out every shoe style that the shop offers. For women, she carries dressy heels, boots, sandals, and everything in between. For men, the selection is also huge. My husband buys all his shoes from All Vegan. There are even a few styles of kid's shoes on the racks.
All Vegan also carries many different brands of purses, totes, messenger bags, overnight bags, evening bags, computer bags, wallets, and even men's bags. They come in a range of materials, including faux leather, cloth, and even recycled water bottles (my personal favorite) from a line called Engage Green.
One of Zakarian's necessities in life is chocolate (isn't everyone's?), and you can definitely tell that she loves the stuff judging by the store's selection. You can have your pick of delicious fancy chocolates, including chocolate-covered caramels and creams, which just melt in your mouth. She also has tubs of chocolate-filled "bites," which are similar to peanut butter cups and come in more flavors than I can count (peanut butter, almond butter, mint, orange, raspberry, and caramel to start). There are also solid chocolate bars in many flavors, and I even found some chocolate biscotti. Zakarian also sells soy jerky, marshmallows, and those Sweet & Sara S'mores that everyone is raving about.

If you are a cook, All Vegan is the place to find that new vegan cookbook for your collection. Zakarian handpicks a special selection of cookbooks ranging from New York Times bestsellers to obscure but wonderful cookbooks that you might otherwise only be able to find through mail order.
Animal rights T-shirts abound in this store, and Zakarian has all her tee's hanging up so that you can easily find that special message you want to voice. Again, the range of choices, sizes, styles, and colors is substantial.
Each corner of All Vegan holds another surprise. There is a rack of belts, a shelf of hats, a skincare section, and a vitamin section. You can also find handmade jewelry, soy candles, books, DVDs, buttons, and bumper stickers. And one wall features free pamphlets and information sheets from many animal groups as well as a handy San Diego vegetarian dining guide.
I can't say enough great things about All Vegan. Check out Zakarian's website at allveganshopping.com to find the store's street address and hours and to view its product selection. She does sell some of her products on the Internet (with some great sale prices on close-out merchandise), but All Vegan is a little corner of vegan heaven that really should be experienced in person.
Have you visited the store yet? If so, what did you think?