Prime Action Alert: Speak Out for Elephants!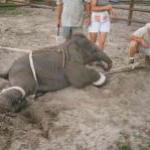 The first animal rights video that I ever viewed showed an elephant in a circus who seemed to snap during a performance. First, she went for the trainer (read: the man who beat her every day). Then, she ran out of the auditorium and into the street before rifles were leveled at her and she was slowly shot to death, collapsing onto a police car and slumping to the ground as sirens sounded. I cried my eyes out and had no idea what to do. I was just a kid then—it was late at night, and I think that someone had shown the footage on public access. But there was no next step at the end of the video, just a feeling of tremendous sadness and rage.
Although watching that video now— or viewing similar materials such as the recent baby-elephant photos taken by a former Ringling elephant trainer— is still upsetting, I now have an action step. I find that there's nothing more cathartic than getting out and telling people the truth about what's happening to animals who are abused in the name of "entertainment."
As more people learn that the elephants and tigers used in circuses are not performing for treats but are instead beaten in order to force them to do physically challenging and confusing tricks, a growing number of cities— including Pasadena, California, and my own hometown Boulder, Colorado— have restricted or banned the use of animals in entertainment. Through public advocacy (such as billboards and print ads), work with celebrities, undercover investigations, and most importantly, one-on-one outreach at demonstrations, we are slowly winning hearts and minds. And we are seeing Ringling cut cities from its tours.
If we reach people with information about cruelty to animals, they change their behavior. Knowing this led me to what I do today: organizing PETA campaigns for animals. And I would like to use this space to encourage folks in the San Francisco Bay Area to come and do your part for elephants and other animals who suffer in chains and boxcars. Please join us in Oakland, California, on Wednesday, August 11, at 6 p.m. outside the Oracle Arena and help us speak out for the animals under the big top. We're going to let Ringling know that we're watching and that the circus is not going to get away with its horrible treatment of animals.
Even if protests aren't usually your thing, I think that if you join us, you may be heartened by interacting with people and seeing firsthand that most people don't think it's right to capture still-nursing 18- to 24-month-old baby elephants rodeo-style, rope them around all four legs, tether them neck-to-neck to an anchor elephant, and drag them away from their mothers. Most people don't think that an animal's every movement, every instinct, and every natural behavior should be subject to discipline. Most people will agree with you when you explain that elephants in the wild live for 70 years on average and that although most elephants at Ringling die well before that age, even 20, 30, or 40 years is a long time to be hauled across the country for 50 weeks out of every year through all weather extremes without free access to basic necessities such as food, water, and veterinary care.
The bottom line is that the public overall agrees that animals deserve to be animals, and people don't like it when they find out that the circus deprives elephants, tigers, and other animals of their basic need to exercise, roam, socialize, forage, play, and raise a family. When you suggest that people walk behind the arena to look at the animals for themselves before or after a show to see stereotypic behaviors that indicate mental distress, such as swaying back and forth, head-bobbing, pacing, bar-biting, or even self-mutilation, people often will. And they come back shocked. Of course, if protesters don't show up, ticket-holders will walk in and out of the show in ignorance, and the next generation of circus fans may unwittingly be born as the kids follow in tow.
So please, come and hold a sign provided by us, chant, pass out leaflets or coloring books, wear our elephant costume, or volunteer to wear one of PETA's body-screen TVs to show people footage from PETA's undercover investigations.  Above all, tell your friends and family members (and bring them!), and help us speak up for animals. We can win this one with awareness!
Lindsay Rajt (pronounced "right") manages PETA's Campaigns Department. If ever you see someone picketing alongside Pamela Anderson, wearing a seal costume, or protesting the meat industry while naked, wrapped in cellophane, and covered in fake blood, that is probably someone from Lindsay's team.