Miss Piggy in Ecuador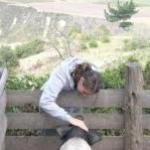 In 2006, my husband and I set off on a vacation to Ecuador. After a scenic five-hour drive from Quito, we arrived at the Black Sheep Inn, which is located in the small village of Chugchilan. This cozy inn situated high in the breathtaking Andes Mountains is a shining example of responsible and sustainable tourism. The eco-friendly lodge has dry composting toilets, recycling systems, organic vegetable gardens, and a greenhouse. It uses solar and wind power and creates local community conservation projects. And all the meals served at the Black Sheep Inn are vegetarian or vegan. If you ever find yourself in Ecuador, definitely reserve a room here—you won't be disappointed!
While there, I met a friendly black and white pig named Miss Piggy who loved attention and came running to the side of her pen whenever I came near. Before our hikes or meals at the lodge, I always made sure to stop by and say "Hi." I think that she really looked forward to those few minutes of belly rubs and attention she received.
Miss Piggy lived alone in a small, dirt pen with no straw to curl up into at night-straw is something that pigs need for bedding and warmth. Her pen was set off to the side of the property where most visitors never went, so she rarely received any attention. She seemed lonely. However, compared to the way that 97 percent of the pigs who are raised on U.S. factory farms live, Miss Piggy was doing fine. She was able to feel the sun on her back, breathe fresh air, and move about freely within her pen—all things that pigs on factory farms never experience. But after spending some time with her and seeing how much she craved attention, I felt that she deserved more. So after returning from our trip, I decided to write a letter to the owners of the inn.
If I was going to make a positive change for Miss Piggy, I knew that I had to be polite and respectful in my approach. I started the letter by praising the owners of the inn for the important work that they are doing for the environment and for  their delicious vegan meals! Then I recommended a few improvements that I thought Miss Piggy would appreciate, including providing her with straw bedding for her to curl up into on cold nights, time to run around and explore in the pasture, and most importantly, because I knew how much she loved people, I suggested that she be given more opportunities for interaction with the guests. Along with my letter, I also sent a copy of the book, The Pig Who Sang to the Moon: The Emotional World of Farm Animals, and I bookmarked the chapter about pigs.
I was pleased to receive a positive e-mail in response. The owners of the inn thanked me for my "thoughtful" letter and "excellent feedback" and informed me that Miss Piggy is now getting put out to root and socialize in the pasture a few times a week. They also told me that she was pregnant (and later sent me pictures of her adorable piglets lying on a pile of straw). Finally, they wrote, "Miss Piggy thanks you," which brought a smile to my face because that's why I did it after all. I hope that I made Miss Piggy's life a little bit brighter.
While I was able to initiate some progress for Miss Piggy, maybe future visitors can inspire the inn owners to do even more. It'd be great for her to have a more substantial pig shelter with indoor space to keep her warm on cold nights and also an end to her cycle of breeding.
This goes to show that all of us—even those of us who are already supportive of animal issues—can benefit from thoughtful feedback and being receptive to new ideas. You'd be surprised at how the people around you want to do the right thing and are open to polite suggestions. (We should all strive to be equally as open to constructive recommendations from others.) Sometimes all it takes is a polite letter or some other easy action to make a difference in an animal's life. So always speak up and say something when you see an animal who could use a little help—you may end up making a positive change in that animal's life.
Have you ever done something to help an animal in need?
This guest post was written by Robyn Moore who is the PETA Foundation's creative copy manager. She has her master's degree in education and is an avid traveler who has taught English in Nepal, volunteered with wildlife in South Africa, and lived abroad in Switzerland.