Lost and Found: My Mini Bunny Adventure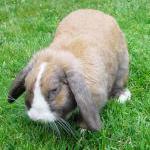 If you live in urban Los Angeles—as I do—you don't expect to see wildlife. But in my neighborhood, which is set along the Santa Monica Mountains, an occasional sighting of a free-roaming coyote in the parking lot is not uncommon. Perhaps they are hungry and looking for food because their natural habitat has been methodically eradicated.
At the base of the hill or from my balcony, I often see other wildlife too. Sometimes I watch hawks as they cruise high in the sky, and delicate hummingbirds often stop in front of me as they dance in the air. Across the sidewalk, I frequently see geckos whose small legs whisk them away to refuge in the bushes.
While I have even seen wild desert cottontail rabbits burrowing into the hillside, I had never spotted a domestic rabbit … until recently. She was hopping in and out of the grass and ivy right next to my balcony. At first I wondered if she was wild, but then after watching her slow and meandering movements, I quickly came to the realization that she was someone's animal companion! I knew she would not survive if she continued to the other side of the lot and up the hillside, where numerous predators lived. Yikes!
Guessing that she escaped from a neighboring house, I immediately went to the area where the bunny was lingering. I brought my cell phone with me because I had recently saved the PETA Cruelty Investigations Department emergency phone number on it. As I watched the bunny hopping around, I stood guard to keep her from leaving the immediate area. I called PETA's emergency number, unsure of what would happen next or what they or I could do to help. I described her as light brown with white feet and a puffy tail.
I was somewhat panicked, afraid that the bunny would get away and get herself into a dangerous situation. I was calmed by Stephanie, PETA's cruelty caseworker manager, who quickly returned my call to the emergency pager. She said that she would find out more information about wild bunnies in my area and would call right back. I watched the bunny as she nibbled leaves and, at one point, actually stepped out onto the sidewalk next to me. So I thought, "This bunny can't be wild."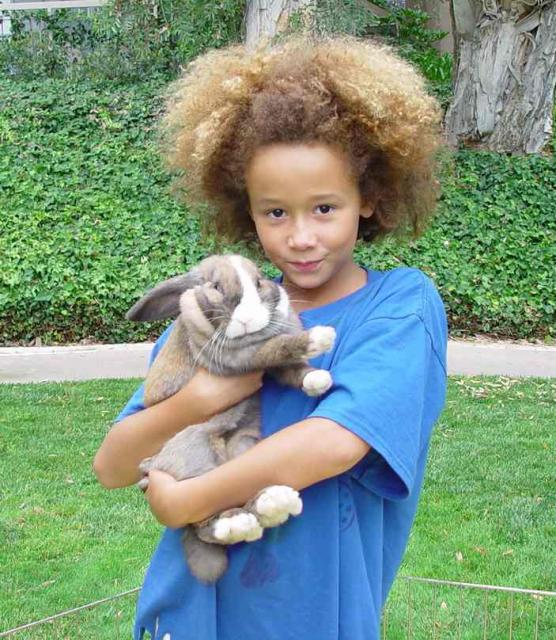 Just as Stephanie called me back with suggestions about what steps I could take next, two young children came around the corner and began to search through the foliage as if they were looking for something. And they were indeed searching for their lost bunny, LuLu. There were many smiling faces as LuLu was reunited with her family. I have made some new friends (who have taken measures to ensure that LuLu never sets out on her own again), and when I see them playing with LuLu in the nearby grassy area, I now join in the fun. Have you ever found a surprising type of animal in need?
This post was written by Lisa Leizear, a gift planning specialist with the PETA Foundation. Lisa shares her home in Southern California with her rescued vegetarian cat, Kitty.